PHILLY PULSOBEAT SPONSORED EVENT ALERT!!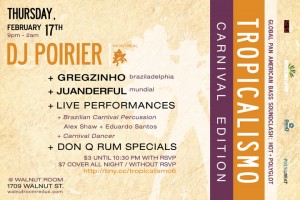 We are less than a month away from Brazil's Carnaval spectacular, and tragically a fire struck the Cidade do Samba in Rio de Janeiro last week, destroying months' worth of careful craftsmanship on floats and costumes, valued at almost $6 million.  Amazingly, the show must go on, and somehow the three schools most affected will pull something together in 29 days so they can parade in the Sambódromo come early March.
That, as they say, is the Carnival spirit, which
Tropicalismo
will be channeling on
Thursday, February 17
at
Walnut Room
.  For six months, the Tropicalismo DJs have been connecting the musical dots of the Americas, much of it inspired by the annual festivities that fill the streets from Brazil to Bogotá to Barbados, from Panama to Puerto Rico to Port-of-Spain.  Carnival is truly a pan-American celebration, and especially when winter is giving way to spring, Philadelphia is joining in, remember it will be some of the best weather the northeast has seen since who knows when on Thursday.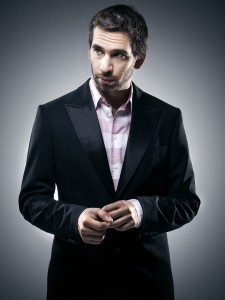 To bring it all together, Tropicalismo residents Gregzinho (Braziladelphia – and back briefly from Rio just for the party!) and Juanderful (Mundial) will be spinning their favorite Carnival jams.  Alongside will be the bombastic Brazilian-style bateria of Alex Shaw (Alô Brasil) and Eduardo Santos, whose seductive samba drumming will echo off the walls of Walnut Room, and an Alô Brasil dancer in full Brazilian Carnaval regalia, bringing the glitz and glamor of Rio's Carnival to February in Philly. Also to add to the festivities will be Ron Wood, member of ASCAB capoeira, and a couple of his capoeiristas to show you the art of the danced fight. Finally, world-touring, in-demand Montreal DJ Poirier (Ninjatune) will send the crowd into a Carnival bacchanal hysteria, Caribbean-style, as his energetic set draws from bits and pieces of dancehall and soca mashed up with bass-heavy, low-end shaking beats.  It's not for nothing that his hometown party, Karnival, is a regular sell-out. Poirier Soca/Caribbean Mix and for more bio info check: http://www.poiriersound.com/bio.
For more details, including a mix to whet your appetite, and to RSVP for reduced cover, visit www.tiny.cc/tropicalismo6.   If you want to stay informed about Philly's best night for tropical bass / transtlantic riddims / pan-american beats, then e-mail "subscribe" to tropicalismo.philly@gmail.com or check the Facebook group Tropicalismo Mundial for updates.
Click here for the Facebook event page with updates.
Tropicalismo #6: Carnival Edition with Poirier, Gregzinho, Juanderful, Alex Shaw + Eduardo Santos (live), Ron Wood and company.
Thursday, February 17
Walnut Room, 1709 Walnut Street
21+, 9 pm – 2 am
$3 before 10:30 with RSVP / $7 otherwise
Don Q Rum drink specials all night with t-shirt giveaways and other surprises.
Até o Carnaval,
Juanderful
Gregzinho
Good Poirier song remixed by PulsoBeat favorite Uproot Andy, merengue stylee:
http://soundcloud.com/uprootandy/wha-la-la-leng-rmx
Comments
comments