— Este Articulo esta en Español y Ingles- This article is in Spanish & English—
English:

DAMAS GRATIS has got that Argentinian Cumbia?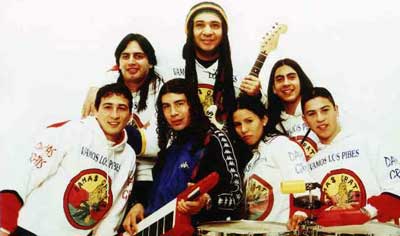 [vimeo]http://vimeo.com/7099070[/vimeo]

Damas Gratis is an Argentine Cumbia Villera band.  When the band released their first album "Para los Pibes", the sales were awesome in Argentina, Chile and Paraguay. The song "Se te ve la tanga" was the single of the album.
Recently Damas Gratis played in Monterrey Mexico in the Coca Cola auditorium, the shows was sold out, 20.000 people were there.
Damas Gratis was created by Pablo Lescano (singer and keyboardist), he is the creator of the style Cumbia Villera. Pablo worked as a producer and played on a track for the famous argentine rock band "Los Fabulosos Cadillacs" the song was called  "Padre Nuestro" and part of the soundtrack for the movie "El Bonaerense" (Nominated in the Cannes Film Festival).
Damas Gratis lyrics are explicit, without romantic message, drugs, girls and party is the content. The band release 8 albums , "Para los pibes" (2000), " En Vivo- Hasta Las Manos" (2001), "Operacion Damas Gratis" (2002), "100%  Negro Cumbiero" (2004),  "Damas Gratis- En Vivo" (2004), "Sin Remedio" (2005),  "Solo para Entendidos" (2006), "La Gota que Rebalso el Bazo" (2008).
Links: http://www.gratisdamas.com.ar/

[vimeo]http://vimeo.com/7369523[/vimeo]
Espanol:
La banda fue creada por Pablo Sebastian Lescano. Anteriormente Pablo había integrado una banda local "Capricho de Luna" y la prestigiosa banda Amar Azul en calidad de tecladista. También fue el creador y el compositor del primer grupo de "cumbia villera" de Argentina: Flor de Piedra, aunque no participó como músico en ella. Quien si lo hizo fue Romina, su hermana, que luego lo acompañó en Damas Gratis.
Corria el año 1999 y Pablo tiene un accidente en moto por lo que es operado de las 2 piernas y queda postrado en camilla. Es ahi donde empiesa a formarse la idea de tener un grupo que toque colombianos y haga mover a la gente en el baile. Estando en camilla crea las letras del primer disco de Damas Gratis "Para Los Pibes" , claro que faltaba un cantante. Al ver que no se conseguia cantante para el nuevo proyecto decide darle èl la voz a la banda. Es asi que nace Damas Gratis". Salen las primeras presentaciones en tv, en los bailes y enseguida es muy aceptado por el publico.
La música y el ritmo de Damas Gratis continuó avanzando hasta trascender los límites de la música tropical, así lo reflejan diversos artículos publicados en diarios líderes en sus respectivos países como ser: Clarín, La Nación, El País, Buenos Aires Herald y revistas de la envergadura de Noticias o Rolling Stone que también se ocuparon de este fenómeno que revolucionó la movida tropical y a la vez ubicó en los canales de televisión un rico debate alrededor de la cultura de las villas.

Links: http://www.gratisdamas.com.ar/

Comments
comments