— Este Articulo esta en Español y Ingles- This article is in Spanish & English—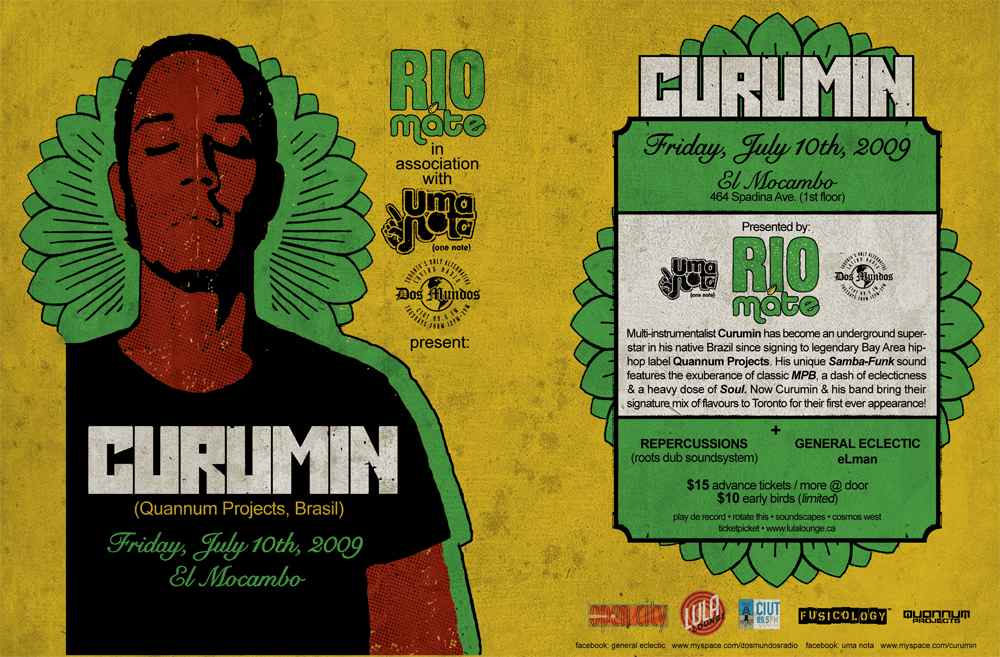 Saludos de los Dos Mundos,
Por fin llego el verano mi gente y Dos Mundos no pudiera estar mas feliz! Andamos como locos organizando unas fiestas calientes para el verano y ya estamos empezando con este fin de semana. El Viernes 26 de Junio, Dos Mundos esta muy orgullos de estar trabajando con ESL music para la fiesta de lanzamiento del nuevo disco 'Coconut Rock' de Ocote Soul Sounds y Adrian Quesada en Naco Gallery – 1665 Dundas St. West en Toronto – GRATIS. Tienen que llegar temprano para poder ecuchar temas del nuevo disco y ganarte una copia del disco cortesía de ESL Music. Para nuestros hermanos y hermanas Brasileras, Dos Mundos esta feliz de habernos conectado con el crew Brasilero Uma Nota para un espectaculo evento el 10 de Julio @ El Mocambo. Por primera vez en Canadá, directo desde Sao Paulo – Curumin! Este artista ha hecho mucho ruido por todo el mundo con su combinación de Samba y Funk! Tickets estan en $15 en Soundscapes, Play De Record, Rotate This y Cosomos West. No se pierdan esta fiesta – va estar increíble!
Y acuérdense mis amigos, si aun no lo han hecho, búscanos en Facebook y Myspace, (nuevo) Twitter y (nuevo) Flickr. Ahora pueden escuchar el programa repetido en www.ciut.fm. Y también los podcasts. Hasta que arreglemos nuestro problema con podomatic – pueden bajar un mp3 del programa entero, aquí.
Hasta La Próxima! Sergio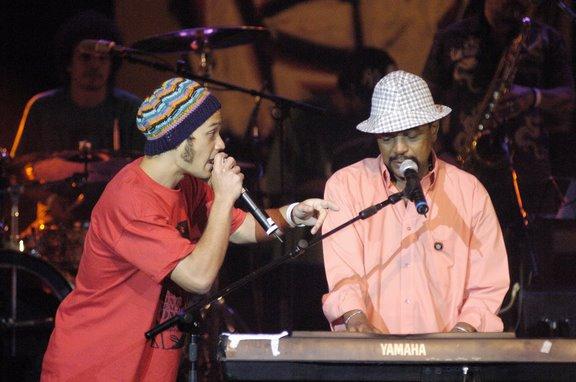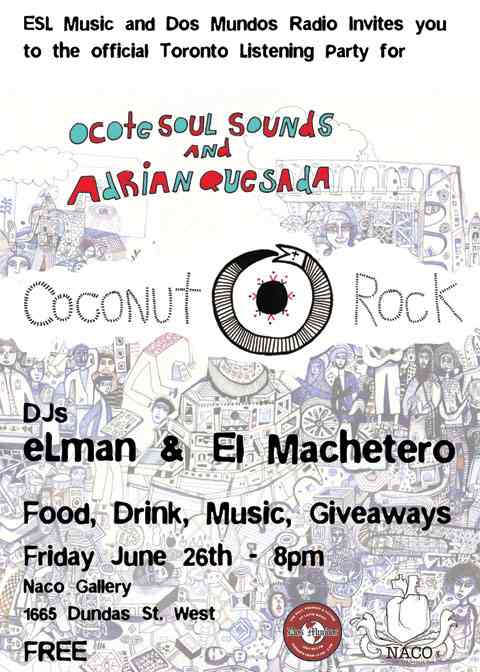 English:
Summer is here mi gente and the Dos Mundos crew couldn't be happier! Just like every summer, we're busy putting together some hot parties and we've already got a few coming up! This Friday June 26th, Dos Mundos Radio is proud to be teaming up with ESL music for the exclusive Toronto listening party of Ocote Soul Sounds y Adrian Quesada's new album 'Coconut Rock' @ Naco Gallery – 1665 Dundas St. West in Toronto – FREE. Show up early for a taste of the new album and for a chance to win some CDs and other promo from the fine folks at ESL Music. For our Brazilian brothers and sisters – we are very happy to announce that on July 10th @ El Mocambo, Dos Mundos Radio and Brazilian groove crew Uma Nota have joined forces to present direct from Sao Paulo, Brazil, Quannum Projects recording artist Curumin! This samba-funk machine has been making a lot of waves around the world and is coming to Canada for the first time! Tickets are $15 advanced at Soundscapes, Play De Record, Rotate This and Cosmos West. Do NOT miss this party – it's going to be legendary!
And don't forget my friends, if you haven't already – check us out on Facebook and Myspace, (new) Twitter and (new) Flickr. Oh and you can now stream repeats of the show on www.ciut.fm. And of course, the podcasts. Until we sort out our issue with podomatic – you can download a full mp3 of the show here.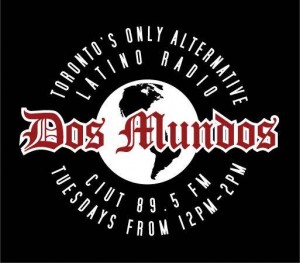 Playlist for June 23rd, 2009
Rebel Rhythm – Play Your Timba pt.1 – Firegrooves (CANADA)
Luisito Quintero – One Love – BBE
Los Amigos Invisibles – Calne – LuakaBop
LTG Exchange – Corazon – Nascente
Bobby Valentin – Use it Before you Lose it – Jazzman
Curumin – Magrela Fever – Quannum Projects
Ocote Soul Sounds – Hacia Una Mañana Mejor – ESL
Psychotropical Orchestra – Cumbia del Dolor – Denso (CANADA)
Kumbia Queers – Isla Con Chicas Bonitas – Horario Invertido
Juaneco y su Combo – Caballito Nocturno – Barbes
Los Mirlos – Muchachita del Oriente – Barbes
Formula 5 – La Cumbia Maestra – Unknown
Grupo Massore – Tambor Sonidero – Frontera Records
Rafi Mercenario – Perreo Vionico – Marroneo Music
Silvio Mora – Carrito Rojo de Carrera – Planet Records
Mambo Infinito – Coje Lo Tuyo – Unknown
Villa Diamante – Fauna vs. Tego – ZZK
DJ Tito – Suave Cumbia rmx – Fireboy
Sonidero Nacional – La Popola rmx – Sones del Mexside
Aniceto Molina – El Campañero (Crunk Cumbia rmx) – No Label
SDP vs Josefa Molina – Cumbia Soledad – No Label
Calle 13 – Nadie Como Tu (Raverton rmx) – No Label
El Nosotros – Tu Cu Cu – No Label (CANADA)
Luisao – Bambass – Cabeza
Ocote Soul Sounds – La Reja – ESL
Curumin – Caixa Preta – Quannum Projects
Afrokyou – Lumaga – Ind. (CANADA)
Kana – Original – Putumayo
Supa Bassie – Me Dices te Quiero – MadLion/Stereotone
Nando Boom – Enfermo de Amor – Sony Discos
El General – Caramelo – BMG
Comments
comments