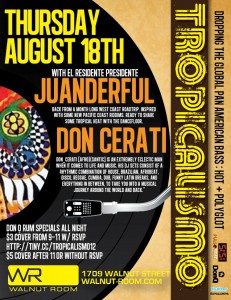 Back from the West Coast! El Residente Presidente,  Juanderful!
After over a month long road trip through the West Coast, driving from LA up to Vancouver, BC and back down, Juanderful is back and really excited to be back on home turf. Had some awesome DJing pit stops in LA with DJ  Sloepoke, San Francisco with Don Bustamante, Roger Mas, and Kool Kyle, & Vancouver with Cherchez, Genie, and Oro 11. Ready to bring some of the west coast tropical funk!!!
Also with special guest:
Don Cerati, NYC: DJ, Producer, and Remixer, Don Cerati [Afro)(Santic/Vodou Fire] is an extremely eclectic man when it comes to life and music. He has been making a name of his own in the NYC DJ scene by keeping true to himself and his genuine and passionate love for music.
Don Cerati's DJ sets consist of a rhythmic combination of House, Latin, Funk, Brazilian, Afrobeat, Disco, Reggae, World Lounge, Cumbia, Dub, Tropical Bass, and everything in between, to take you into a musical journey around the world and back.
He has shared the DJ booth with some of his musical heroes and favorite people like Nickodemus, Wiseacre, Nappy G, Sabo, $mall ¢hange, DRM, Eddie Plenty, to mention a few. He also has been special guest in a couple of the Turntables On The Hudson events. Has played local hot spots like Cielo, Water Taxi Beach, The Empire Hotel Lobby Bar, Bembe, and Grotto. He's also the resident DJ at Corcho Wine Room where he holds down his weekly DC's Grooves on Saturday nights. He's now working on the release of his debut EP to be released soon…
Don Q rum specials all night!! Expect Señorita Ayako en la door and the Walnut Room crew never disappoints.
Don't forget to check our TROPICALISMO MUNDIAL FB page
$3 cover from 9-11 with RSVP BELOW!
$5 cover all night without it…

Comments
comments