(Version traducido al Español abajo)
If there is a way to understand Brazil and its people, the best way would be to listen to the music. Brazilian music oozes brazilian life, it tells us how brazilians are….its what brazilian music does so well. My friend Lalo Porto and I sat down for a couple of hours so that he could teach me a bit about brazilian music; Lalo was born and raised in Brazil but also grew up in Toronto, Canada.  I met him during a 3 year bicycle trip that he is on which spans both the South American and North American coasts. On this trip he is representing"Bikes Without Borders"as a mobility ambassador, spreading awareness about bicycles and green living.
On this particular occasion we ended up speaking about brazilian music specifically from the northeastern area.  This area, in which Recife and Salvador are located, is not generally the area that we as outsiders hear about, regardless it is just as rich in musical roots if not more. It was very much a breeding ground of cultures where the african slaves initially arrived and began mixing with all the other cultures. Because of this it has strongly influenced much of the rest of Brazil's rich musical history.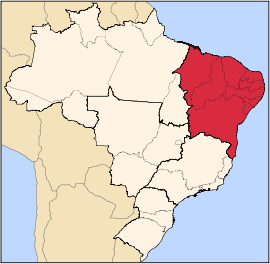 Pernambuco is one of the longer states in the northeastern region, but small in comparison to Bahia which is also in the northeast. Inland Pernambuco(Zona da Mata) is a mix of natives with whites and the music is largely folkloric, as you get closer to the coast there is more of an african influence in the music.This very same influence has had the greatest impact on the rhythmic development of its music, most of the music is tied to the candomble religion which is very similar to the santeria religion from Cuba. "They're rhythms but they're much more than that, they all have liturgical elements to them" says Lalo of the northeastern musical roots.
"Im pretty passionate about brazilian root music. Everybody knows Rio, and everybody knows samba and bossanova, but for me when I talk about brazilian music a huge part is the northeast region. Coco, maracatu, afoxé, ciranda, baião, xote, arrasta pé, etc…" explains Lalo. He confessed to me in a very humble manner, that because of his knowledge of lesser known brazilian rhythms, he sometimes feels he knows more about brazilian music than the average brazilian. Like Vinicius de Moraes once called himself "o branco mais preto do Brasil"(The blackest white guy in Brasil), Lalo could probably be called the most "brazilian" brazilian outside of Brazil.
We indulged on a couple of northeastern rhythms, one of them being forró [pe-de-serra] (foot of the hill). Not to be confused with "forro universitario", in Lalo's opinion, the degradation of the genre.The modern version of forró [pe-de-serra] has become very tacky, lyrically its become very sexual, and instrumentally they made it less unique using a drum kit and a bass instead of the traditional instruments."Very money driven…" Lalo tells me.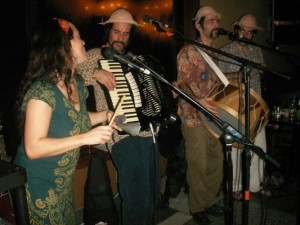 "Forró[pe-de-serra]", is not a rhythm, though many brazilians treat it like one. It actually is a party that involves dancing in pairs in which several northeastern rhythms are played; more specifically arrasta pé, baião, and xote. Baião being the original forró style, xote a slower style, and arrasta pé being the fastest of the three. Lalo spoke to me about Mulambo Groove, a forró band in which he participated with his brothers. He was the triangle player while his brothers played the other 2 traditional instruments used in forró, accordion and zabumba (double sided bass drum). Another common instrument is the rabeca, it is a violinists worst nightmare, Lalo tells me. It is a rustic, handmade violin that can and does easily go out of tune many times during a forró party.
Luis Gonzaga (1912-1989) was a catalyst for forró music, he actually exported the forró music to southern Brasil becoming very popular outside of the northeast. Jackson do Pandeiro (1919-1982), also a big forró artist, mixed baião with other northeastern rhythms, like coco. Festa Junina, is a forró festival that takes place in the month of June and it celebrates some of the saints of the Catholic religion, the most celebrated day of the festival is known as São João(Saint John). Some of the common themes in forró music talk about the drought, which is very specific to the northeast, the lonliness of migrating to find work, or of the sertao(outback/countryside).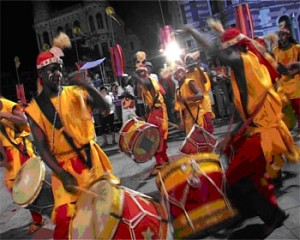 Lalo and I spoke of one more northeastern rhythm close to his heart, maracatu. There are 2 types of maracatu: "de baque virado" and "de baque solto ", in this instance we spoke only of "de baque virado". Maracatu is one of the northeastern rhythms that has been exported to the rest of Brasil and the world.  Outside of northeast Brasil, maracatu groups stray away from the heavy liturgical influence in traditional maracatu. Strongly influenced by candomble traditions, maracatu is a way of life  to those heavily involved in this particular community.
In maracatu, they call themselves nações(nations), just like in samba they call themselves escolas(schools). Also, like the Samba Carnaval en Rio, there is a Maracatu Carnaval en Recife. The nations prepare all year long for their performance in this Carnaval. Maracatu, especially during Carnaval, tends to be more organic in sound than samba; the emphasis is on the use of "alfaia" (wooden drums) which gives it a rawer sound, especially when you have a hundred people playing simultaneously. In a nação they have what is called the royal court, which includes a king and a queen, this is directly descended from the Kings of Congo, which were the slaves who held leadership roles within the slave community in Brazil.
Of his first introduction to maracatu Lalo says "I feel it in my blood", he continues to tell me he felt a familiarity with it unlike any other musical experience. He loves the fact that you dont need to be a good singer, it matters that you sing with passion. It's important to note that maracatu has not become mainstream and it still maintains its culture and traditions. You can go to a maracatu show and see a 15 yr old boy playing next to a 70 yr old man who has been playing for 50 yrs, it's spans many age groups. Maracatu's lyrical content is heavily based around the royal court, back home(Africa), and praising their nação. Some of the most important nações are: Estrela Brilante de Recife, Leao Coroado, Encanto da Alegria , Gato Preto.
I tell Lalo "maybe you're showing me a snapshot of what Brazil isn't right now, and thats ok, but it definitely feels closer to what it should be, to home, to roots and thats where things should be." A lot of music has lost its roots to the point of no return, to hear these northeastern rhythms with somebody who is as passionate about them as Lalo is, hits home. I am a colombian american outside of Colombia fighting to preserve tradition, Lalo lives to preserve and maintain his brazilian heritage, yet he is outside of Brazil.
It is important for us to reconnect to our roots and traditions because we are so close to losing our heritage, but the mixing of cultures is also important. What I fear the most is music without passion, you can mix whichever styles you wish to as long as you dont lose your passion. Music that has only money behind it is essentially dead noise. I ask Lalo one last general question because words can't sum up the point I'm trying to make. "What does all this mean to you?" He ponders, searching for the right words, and then he tells me…all these rhythms "bring me back to a place where I can reconnect with my ancestors…People may not know it but playing and listening to this music brings you back to a spiritual plane regardless of how spiritually connected you are. Because of its liturgical roots something needs to be sacred and honored."
Thank you Lalo Porto for your time and for sharing your sacred knowledge with PulsoBeat.
More links:
Comments
comments