Soul music, energy, taste and sensuality. These are the ingredients that Carito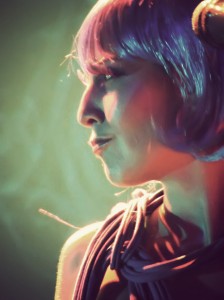 Plaza succeeded in combining with her soft voice to give life to her first solo album.
"Sabor A Chocolate"(A Taste of Chocolate) is the independent debut of this Chilean singer/songwriter of Arabic roots. Carolina Plaza Hamame, better known as Carito Plaza, was discovered with the band, FunkReal, when she emigrated from Concepcion to Santiago(Chile's capital). While performing with the band, they released the albums "Respeto por el funk"(Respect for the Funk-2004) and "Nadie lo hace suave"(Nobody does it gently-2007). She was also a founder of the now dissolved band, Ovolo, where she was introduced to Acid Jazz.
Carito has participated as a background singer in various groups and collaborated with various bands essential in the Chilean music scene. Some of these include: Raiza, Cfunk, Dj Bitman, Boomer and Solodimedina. Because of her participation in the musical "La Pergola de las Flores", Luis Jara's musical theater company, Carito began to feel the need to compose her own songs and venture into new musical styles.
"Sabor A Chocolate" is the outcome of a conscious progression and comes loaded with a delightful energy that ranges from soul to funk, pop to bossanova and other universal music trends such as Nu Soul and Acid Jazz.
The musical production of the album was in the hands of Gustavo Figueroa and Misha Celis of the band Raiza, prominent musicians of the national soul and funk scene. "Instinto Animal" (Animal Instinct) is the first promotional single featuring the collaboration of DJ Seltzer.
Comments
comments