Si mi gente – as always – we had a great time doing our Dos Mundos thing this week. Connecting the past, present and future of Latin Music ~ and hopefully ~ showing some folks out there how much variety there really is in nuestra cultura!
This week, we have more FREE music downloads – direct from the artists to you – nuestra familia – ENJOY!
Our primero download is a funky track cooked up by the production duo of artist/musician Ulysess Castellano and designer/producer Mikooshka called 'Coconut Radio' ~ some dancefloor business from some local locos…download the tune HERE ~
See it Here:
[youtube width="533″ height="344″]http://www.youtube.com/watch?v=hRLxSMpG-Vw[/youtube]
Esta semana we have yet another tasty Digital Empanada. The Second installment is titled 'Esta Hijueputa Música' and has been mixed by Dos Mundos Radio DJ Armando Farras aka eLman ~ expect lots of tasty cumbia tracks mixed for your PLEASURE click HERE….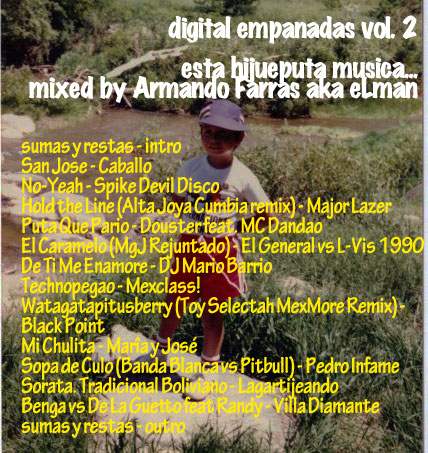 Finally, we have a special treat for all you original Doombiamberos! Hot off the presses – otra mezcla illegal ~ HUELEPEGA SOUND SYSTEM presents 'Amor Doombiambero'. Another MIX of noisy, psychedelic, dub cumbia that sounds like nada you've ever heard before…check out the write-up by Global Ghettotech Apostles GENERATION BASS did on these freaky doombiamberos….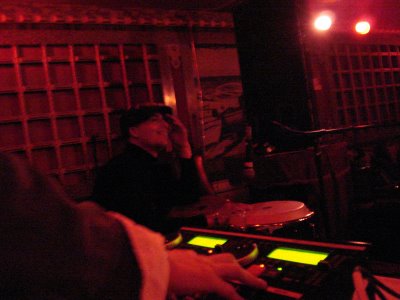 Hasta La Next-One
Sergio


Playlist for Dec. 8, 2009
Los Caneyes – Suspirando por el ChikiChaka – Waxing Deep
Manny Corchado – Pow Wow – Honest Jons
Rebel Rhythm – Return of El watusi – Firegrooves (CANADA)
Nickodemus – Mi Swing es Tropicl – (Quantic rmx) – ESL
Supa Bassie – Me Dices te Quiero – MadLion/Stereotone
El General – Pu Tun Tun – Columbia
Negromoreno – Julito Toquecito – Cabeza
Jiggy-D – Contra La Pared – No Label
DJ Poncho – Passa Passa Bombastick – No Label
Don Chezina – Mira La Nena – Piña Records
Criollo – Mi Adicción – Ind. (CANADA)
Carlos Franzetti – Cocoa Funk – Sonorama
Black Point ft. Del Patio – Watagatapitusberry (Toy Selectah MexMore refix) – No Label
Bigga – Boeke (Sonora rmx) – No Label
El Remolon – Dabrye vs MC Hammer – ZZK
Tego Calderon – Cosa Buena – WhiteLion
Nando Boom – El Desorden rmx – No Label
Sonora Point – Huachita Rica (Douster rmx) – ZZK
DJ Toty – Lander rmx – No Label
El Caballo – El Negro – Ind. (CANADA)
Sabbo & Cassidy – Kuff Cumbia – Bersa
Shantall – Perdi el Camino – Ind. (CANADA)
Tommy Olivencia – Planté Bandera – Fania
Ismael Miranda – No Soy Jugete – Fania
Joel Otriz – Latino – Koch
Julieta Venegas – Eres Para Mi (Sonidero Nacional rmx) – Sones del Mexside
Villa Diamante – Frikstailers vs Calle 13 – ZZK
SDP vs Caballo – Cartagena – Ind. (CANADA)
Unkown – Reggaeton Modulado – Unknown
AMIGO US!

Facebook ~ Twitter ~ Soundcloud ~Flickr ~ Podcast ~ CIUT
Comments
comments