Audiences have been impressed by T-Weaponz's intellectual lyrics, their ability to interweave street scenarios and anecdotes with historical and literary references. From Ark's precise flow to Iz's blunt lyrics and Psalmz's flair for metaphors and wordplay, the MCs have formed a perfect triangle, complementing one another and ushering in a new sound. T-Weaponz appeared on the scene in 2003, with the release of the Alchemist-produced "Raised in the Slums" and the BlackOut EP, followed by the radio smash "Mira Mira" in 2005, the Billboard Top Ten R&B/Hip-Hop single "Dem Boyz" in 2006 and The Underground Music Award for Most Dynamic Group or Duo in 2007. This explosive lyrical trifecta hailing from the streets of Brooklyn's East New York, composed of brothers IzReal and Arkitek and their neighborhood friend Psalmz.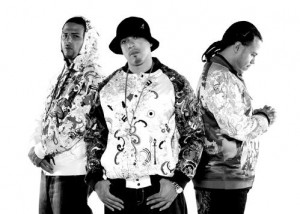 After meeting at an impromptu neighborhood 'CIPHER' (term used to describe a circle of emcees rhyming together) and later discovering how many similarities they shared both in terms of their life experiences and their ideals they soon came together under the moniker Tomorrow's Weaponz, which they later shortened to T-Weaponz. Over the years, T-Weaponz's unique lyrical style, catchy beats and desire to bring truth, hope and justice to the streets has garnered the group many successes, among them:
T-Weaponz's audience skyrocketed with the release of the catchy bilingual anthem "Mira Mira." The wildly popular "spanglish" track, which features Cuban rapper Pitbull and Notch, formerly lead singer of the Born Jamericans, bridges the gap between English- and Spanish-speaking people with its witty fusion of English and Spanish words. In a matter of months, the song became an international hit catapulting T-Weaponz into the mainstream.. Mira Mira garnered over 15,000 radio spins nationally and surpassed 50,000 in digital download sales.
[vimeo]http://vimeo.com/2328831[/vimeo]
Moving forward, T-Weaponz released the "XtraOrdinary" music video, which featured West Coast female-MC Diamonique and cameos from famed producer Fingazz and La Bruja. The video was added to rotation at NBC Mun2 and MTV Tr3s, as well as many regional and Internet video shows. The group also appeared on MTV Tr3s' Sucker Free Latino, giving the show a tour of Brooklyn's East New York, where they got their start. T-Weaponz recently completed a tour of Colombia and have been in the studio working on album number two.
Armed with an endless arsenal of rhymes and an enormous devoted fan base that transcends cultural barriers, T-Weaponz is poised to blaze into center stage. Check for a new album and for T-Weaponz at major festivals throughout 2009.
Check out the smash new single, "Put Soul In It" featuring Tony Touch. That's right Tony jumped on the track. This track is bringing back the ol' Rock Steady flow, and introduces the new dance craze called "Get Lite".

T-Weaponz Myspace: http://www.myspace.com/tweaponz
Comments
comments