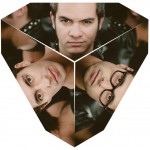 ¡Feliz viernes! Hoy les presentamos el segundo sencillo del álbum debut de Diamante Eléctrico titulado "Nos Rompemos Igual". El grupo cita influencias como The Kinks, Los Rolling Stones, The Doors, Led Zeppelin y Los White Stripes, influencias que podrán ser escuchadas cuando la banda bogotana lance el disco homónimo en marzo de 2013. Este promete ser un proyecto con alma punk y con tintes de garage de los años '60, conformado de diez tracks llenos de un sonido fuerte, bluesero y crudo.
El trío es liderado por Juan Galeano (bajo, contrabajo, voz) acompañado por Daniel Álvarez (guitarra eléctrica) y Andee Zeta (batería). Estos tres músicos son reconocidas figuras de la escena musical colombiana desde hace tiempo ya; previo a formar la banda, Galeano era un reconocido cantautor que logró un trabajo importante como solista con su álbum debut "Peregrino", Álvarez era el guitarrista de la hoy extinta banda Madame Complot y Zeta era conocido como un poderoso baterista por sus energéticas presentaciones en vivo. Este dato puede solo asegurar un trabajo prometedor que crea muchas expectativas. Ahora solo toca esperar hasta marzo…
Mira el video y descarga la canción "Diamante Eléctrico" aquí: http://pulsobeat.com/2012/10/05/videobeat-viernes-diamante-electrico-excava-rock-roll-para-volarte-la-cabeza/ 
¡Pulso Y Pa' Lante!
Comments
comments