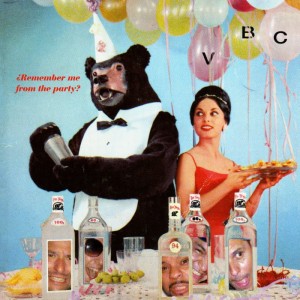 ¿Remember Me From The Party?, el sexto disco de estudio de Very Be Careful, el quinteto puramente vallenatero basado en Los Ángeles, California, se traduce mas o menos a ¿Te acuerdas de mi en la fiesta? Es que después de escuchar el primer tema del disco, "El Revuelto", no cabe duda que has infiltrado la mejor parranda costeña de Colombia y puede que no te acuerdes de nadie, ni nada cuando despiertes al día siguiente.
Los hermanos Arturo (bajo) y Ricardo Guzmán (voz y acordeón), Dante Ruiz (cencerro), Craig Martin (guacharaca), y Richi Panta (caja vallenata) están de regreso y con este nuevo disco que salió el 9 de octubre de 2012 "siguen dedicados al rescate de la cultura colombiana con un aire de alegría y un estilo sinceramente respetuoso al vallenato de tradición", como lo menciona su página web. Incluye cinco versiones nuevas de vallenatos clásicos colombianos y siete composiciones originales que te encienden y te invitan a bailar desde las primeras notas del acordeón.
La voz ronca y parrandera de Ricardo es un detalle mágico que inmediatamente te transporta a los tiempos de Alejo Duran, Rafael Escalona y Emiliano Zuleta, tiempos sin igual en la historia de la música de Colombia. Los temas destacados son "El Revuelto", "Cinco Centavitos", "El Millonario" y "El Encuentro". Son canciones de amores y tragos, de mosquitos, mujeres y guayabos (para los que no conocen la palabra, es el equivalente a la resaca o la cruda).

Very Be Careful fue creado a finales de los '90s y empezaron tocando en los trenes de Nueva York, hoy se encuentran en Los Ángeles y han tocado en Inglaterra y Japón, han sido teloneros para Carlos Vives, Vampire Weekend, Buena Vista Social Club y muchos más…. pero nada los aleja de su propósito musical y el espíritu festivo que siempre los ha acompañado. Tiene que ser que los dioses vallenateros le sonríen y le dan su bendición musical, porque ¿Remember Me From The Party?, más que un éxito vallenatero, es un éxito musical, más que un grito parrandero, es un grito de alegría.
Descarguen el disco completo a través de iTunes en este enlace: https://itunes.apple.com/gb/album/remember-me-from-the-party/id569730789
Comments
comments