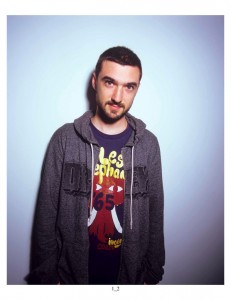 Here's a little interview that I did with Uproot Andy the day after the debut of the TROPICALISMO party, sponsored by PULSOBEAT, to which he was invited as guest DJ:
Starts off with him singing Pamela Chu.  Long story short,  I showed him a video on Youtube, called Pamela Chu by Vaqueros Musicales, which is a pretty funny and sticky tune.
Juanderful: So what'd you think about Tropicalismo last night ? Did you enjoy the Philly vibe?
Uproot Andy: Yeah it was great, it was off the hook, I had a great time.
J: Talk a bit about the music that you play, what you're into right now.
UA: Right now I've actually been listening to a lot, compared to before, but a lot more bachata and soukous music.  I've been feeling the similarities in the  guitar styles and sort of wondering if one had influenced the other.
J: School me on soukous.
UA: So soukous is , I guess mostly originally from Congo, but it's a music that is pretty  pan-African at this point. It got really big in South America, Colombia, the Caribbean coast and became the basis for what is  champeta there. And really the dj's there still play a lot of that stuff. I know that Juan Luis Guerra had done covers, he has this famous song "A pedir su mano" and that was a cover of a soukous tune. So I know that stuff was big and was going around  down there in the, I guess, the 70's and 80's, so i wonder whether if today's bachata takes from that…
JB: You told  me before you were working on a project with soukous?
UA: Oh well, I mean I've just started to mess around with a couple of remixes. You know just to be able to start bringing
those styles more into my  DJ set. Because I never play bachata but doing a latin party in New York people definitely like bachata.  I always felt it's a kind of  slower, more ballady thing. You know we play the faster ones that are mixed with merengue, but  I want to bring that real bachata sound but still kind of make it work. I don't know, I haven't done it yet. (laughs) But I started it, we'll see what happens.
J: Last night I had asked you, I was curious how you got started in all this, the latin sound and everything. Was it a girl that made you start looking at the salsa? (Laughs) Or what made you get that interest into searching for the latino sound.
UA: It's hilarious, I mean honestly I think it was reggaeton.
J: That's what it was?
UA: It popped in New York, it got really big, you couldn't avoid it, I loved it. So it kind of made me realize that there was a lot of music that was around that I didn't know about.  So I started looking for it more.  But it's funny that you say, 'was it a girl?' Because there was definitely a girl who used to encourage me, she would say, 'you should listen to salsa'. For me reggaeton made sense in a hip-hop way, it was easier. Salsa was something that like, obviously you hear it go by in cars. You realize a lot of your life you tune things out that seem, for whatever reason they're not for you and then when you open your ears to things, suddenly your like, ' Oh wow that's actually amazing!, and it's been around you your whole life, more or less.
J: Do you feel like you have a big connection to any Latin American country, like to it's people, culture, music?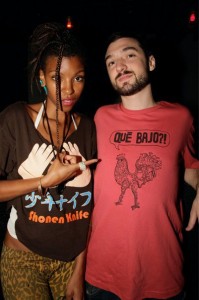 UA: Well Colombia definitely.  I have a lot of Colombian friends. In South America, I've only been to Colombia and Argentina. So those are the two countries I have a personal connection to. I have lot of friends in both countries, but I mean Colombian music is something that has been a huge, huge influence on me. But then you know like living in New York, I've got Puerto Rican, Dominican…
J: You thinking about going to Mexico or you said you were going to Colombia again?
UA: Yeah I'll be back, but yeah I'm going to Mexico to. There's couple of promoters that have expressed interest.
J: What's in the near future for Uproot?
UA: Im working on my album. That's what I'm focusing on right now.  I did a lot of traveling recently, a lot of gigging. And right now I really want to get the album done. I have the single pretty much ready.  It's just a matter of getting it out.
JB: What's the timeline for you? Im putting you on the spot right here, this will be your printed deadline..
UA: (laughs) What's today?  I hope the single will be out by Christmas.
J: Any parting words?
UA:  Is it always sunny in Philadelphia?
J:  You came here on the two days that it is.
UA: It's beautiful out here.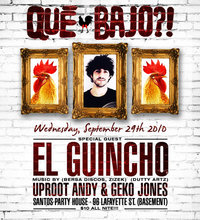 J:  When do we get to see you back here?
UA: Yeah it's so close, I'd like to come back.
J: You're welcome here any time. Any shout outs?
UA: Yeah the whole New York team. You know everybody is  looking really strong, Chief Boima, Geko Jones, DJ Rupture, Que Bajo!?, Dutty Artz crew.
J: Oh! Any special guests coming up for Que Bajo?!?
UA: Yeah we have El Guincho this Wednesday, September 29th.
J: Alright bro thanks for coming out to Philly for Tropicalismo.
Comments
comments