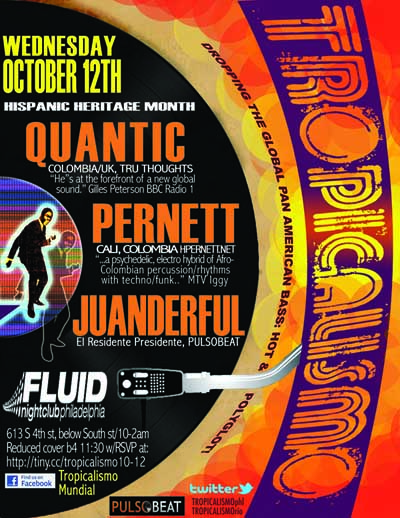 TROPICALISMO: Celebrating Hispanic Heritage Month
You can RSVP at the end of the article!
With a foot in the Caribbean and another in the Pacific, Colombia is at the crossroads of the Americas. Its privileged geography is also a musical boon, as the confluence of African, indigenous, and European influences has produced one of the world's greatest countries for live music – from cumbia to salsa to champeta and beyond. Based in Calí, Colombia since 2007, the UK-born Will Holland has been playing under the umbrella name Quantic for over 15 years as a producer, musician, and DJ. On Wednesday, October 12th, he will be at Fluid Nightclub for the Tropicalismo monthly to help Philly close out Hispanic Heritage Month.
Deemed "at the forefront of a new global sound" by Gilles Peterson of BBC Radio 1, Quantic has been evolving and involving various styles like funk & jazz to electronic & folk music through to Latin, reggae, dub & cumbia through his over ten-full length albums on Tru Thoughts. His latest is "The Best of Quantic) and it spans the breadth of his music. As Holland explains, "I try to make music that encourages people to explore outside of their usual listening circles and check scenes and genres they may otherwise never be exposed to."
Here's a link to a mix by J.Rocc, of Quantic's music: http://soundcloud.com/tru-thoughts/best-of-quantic-mix-by-j-rocc
Pernett's "folkclor progresivo" (as he also calls his music) pretty much sounds like what we imagine traditional Colombian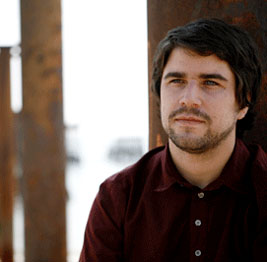 music will sound like in 2111: a psychedelic, electro hybrid of Afro-Colombian percussion and rhythms with funk, techno, pop and hip hop. He came to the blend by marrying his two passions: computers and music, in particular the Afro-Colombian and coastal rhythms like cumbia and champeta heard in his native Barranquilla." (As written by Monika Fabian for MTV Iggy's 'Artist of the Week')
Quantic and Pernett embody the musical spirit of TROPICALISMO, Philly's Afro-Latin-Caribbean monthly blending old-school rhythms with nu-skool riddims. Resident DJ Juanderful, himself of Colombian descent, will be proudly pulling out his old Discos Fuentes' vinyl as he sets the tone for a raucous night of claves, trumpets, and lots of drums.
Join us this Wednesday night at Fluid Nightclub: http://www.facebook.com/event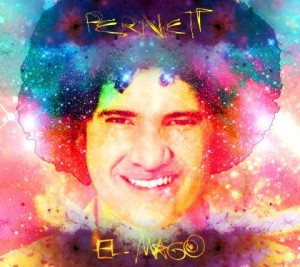 Tropicalismo Hispanic Heritage Month Edition
Special Guests:
Quantic (Tru Thoughts / Cali, Colombia)
Pernett (www.hpernett.com/ Cali, Colombia)
y
El Residente Presidente: Juanderful
Fluid Nightclub, 613 S. 4th St. b/w South and Bainbridge
10 pm – 2 am, 21+
$2 domestic beers/$3 well drinks til midnight
$7 cover, or $4 until 11:30 with RSVP RIGHT BELOW!!
If hunger strikes you there will also be a Taco Truck parked outside for your munchies which will also be selling homemade cheesy Colombian arepas!!

Comments
comments