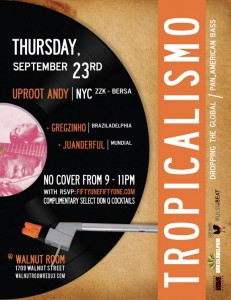 PulsoBeat partyers! We are sponsoring one more "dance till you fracture those hips" type nights for you this Thursday. If you're in and around Philly, be sure not to miss the debut of Tropicalismo! with Uproot Andy:
Philly has been missing out on that tropical bass, hot & polyglot kinda vibe that's been popping off in all the major metropoles — New York, London, Paris, LA. Dembows mashed up with folk tunes, crunked out cumbia, dancehall mania en español, coupé décale collides with hip-hop, Carnival mass hysteria, kuduro avec grande vitesse, soca-fied funky house. That pan-American, transatlantic, equatorial soundclash is finally arriving here as a manifesto, nay a movement, with the debut of TROPICALISMO this Thursday, September 23 at Walnut Room. 9 pm – 2 am with complimentary Don Q cocktails from 9-11.
Uproot Andy, of NYC's legendary Que Bajo?! party at Santos Party House, will set the tone, which will bring a cadre of top-notch, global-minded DJs that have rarely if ever graced the Philly club scene. His Diesel U:Music Radio mix and Guacharaca Migration mixtape bottle up the Que Bajo?! sound into your headphones. Resident DJs Gregzinho and Juanderful will be holding it down with hopscotch sets from across the hemispheres.
Check out Uproot Andy's refix of the no contest riddim of the year, Gyptian's Hold Yuh, on a Los Rakas Spanish vocal with a likkle extra beats'n'bass. Esto es Tropicalismo. Bring your passport and vamos lá!
Abrazame (uproot andy mix) by Uproot Andy
Comments
comments