TROPICALISMO #9 Moombahton has arrived in Philly & the "8 Inches of Moombahton" EP is out!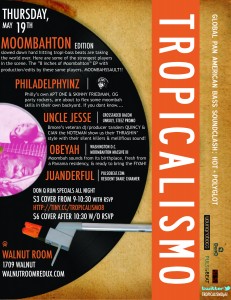 Moombahton Mayhem from the Moombassault Mafia!!!
Get ready for the first night dedicated to Moombahton in Philly!  You say "what the heck is MoombahWhat?" >> NPR can explain it betta: Check it out HERE! Or check out the latest article in FADER!
For this special occasion a FREE EP has been carefully put together by our five guests, "TROPICALISMO: 8 Inches of Moombahton" which you can grab here>> http://philadelphyinz.com/8inches/
PHILADELPHYINZ, YoungRobots: Philly/NYC/Pittsburgh
Apt One & Skinny Friedman
Philly's own party rockers and musical ambassadors are ready to flex some of their moombah muscles in their own backyard. If you don't know… http://philadelphyinz.com/
UNCLE JESSE, Crossfaded Bacon, Unruly, Steez Promo: Bmore
Uncle Quincy & Cian the Noteman
Veteran dj/producer Tandem have seen a million phases come and go. With roots in Bmore's culture the two have crafted edits that take the Latin/Dutch combo into the disco house realm. Warm, soulful and mellifluous, their originals are the silent killers of the genre and they also started the 1st Moombah vaunted underground rave party in Bmore…. Thrashin'. http://www.crossfadedbacon.com/2011/05/11/uncle-jesse-samson/
OBEYAH, Moombahton Massive III: D.C.
Moombah sounds coming to you directly from the genre's birthplace. Fresh from a residency in Panama he will be ready to bring you his turntablist mentality so you can get twisted on the dance floor! http://soundcloud.com/obeyah
Juanderful: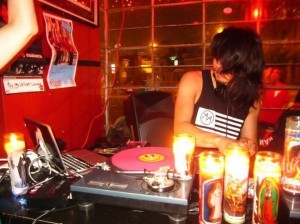 www.pulsobeat.com
Half of the duo who created the Tropicalismo nights here in Philly. Crazy you say? Nah….Just happy to have the opportunity to bring together awesome talent and showcase diverse sounds…Well we say, humility is also greatness!
DonQ rum specials all night.
$3 cover from 9-10:30 with RSVP below
$6 cover all night without RSVP below
Walnut Room: 1709 Walnut St. Philadelphia, Pennsylvania 19103
Comments
comments