We are SurAmerican dancefloor rockers!
This time we have a few surprises. First off there will be no charge this time around, call it a little spring gift for those that have been following faithfully. Secondly, the sounds that you will be tuning into will be from all over South America….Venezuela, Argentina, Colombia and everywhere in between and further..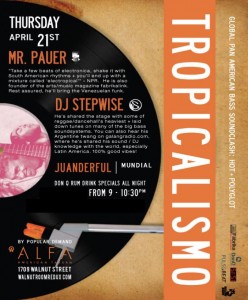 Starting off the night we have Mr. Pauer (Fabrika, Venezuela via Miami) whose music can be best described by a line from his interview with NPR, "take a few beats of electronica, shake it with South American rhythms and you'll end up with a mixture called 'electropical'" Besides being a DJ/producer, he is also founder of the arts/music magazine www.fabrikalink.com. Rest assured he'll be bringing  the Venezuelan funk. Electropicacion!!!
To keep things heated DJ Stepwise (Galang Radio, Argentina via San Francisco) will be bringing some of his Caribeño heat. He's a selectah, producer, remixer,  has DJed across the world, sharing the stage with some of reggae/dancehall's heaviest and laid down tunes on many of the big bass soundsystems. You can also hear his Argentine twang on www.galangradio.com, where he shares his sound/DJ knowledge with the world, especially Latin America.…100% good vibes!!!
Last, but certainly not least, we have el señor Juanderful (Mundial, Pulsobeat, Colombia via Philly) who keeps putting together awesome lineups for the TROPICALISMO events and makes sure things keep moving smoothly. El residente that gets you started with all the Tropi-Funk he can dig up. He'll keep digging hard to bring you the different funky tropical sounds from round the globe.
Enjoy some sounds from Mr. Pauer and DJ Stepwise:
Mr. Pauer
http://soundcloud.com/mrpauer/mr-pauer-electropico-mixtape
DJ Stepwise
FREE DOWNLOAD!
http://soundcloud.com/stepwisedj/busy-signal-picante-ay-menino
follow on Twitter with the handle @TROPICALISMOphl and @TROPICALISMOrio
Here's the event page at Facebook! http://on.fb.me/gjMEJR
A big thanks to you for your support!!
Comments
comments