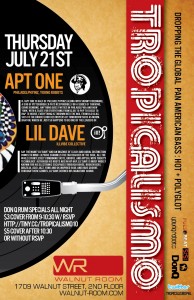 This month Juanderful, Residente Presidente is hanging on the west coast while fam, and soon to be Philly folklore, Apt One and Lil Dave are digging away and tropicalizing their selection for this incredible evening.
There's not much else I can add to the story of Mr. Apt One. Besides being an excellent DJ/producer, doing some incredible parties (The Ball, Nacho City, Hot Mess…) and bringing some great guests to the Philly area, the dude is a gentleman and a scholar and he just recently got hitched, so congratulate him please! Expect to hear some tropical sounds you've never heard before.
I can pretty much say the same exact thing about Señor Lil Dave. Hard working dude doing some great things in the Philly area and abound. He's also producing some great sounds, check out his SoundCloud page. His events (The Boom Bap, Body Rock…) and guests invited to the area are top-notch. Rolling deep with the Ill Vibe crew and doing the Eavesdrop radio show as well. I can continue but you must know by now that this night is going to be nitty nasty, sweaty funky good times. The Latin Sound Of Philadelphia!! Sign up for the RSVP specials below!
For the latest event updates don't forget to hit us up on the FB event RIGHT HERE… lets pack the place!
Señorita Ayako will be greeting you at the door.
And the Folks at Walnut Room will be providing you the friendliest of services. Remember smiles don't pay their rent.
Tropicalization of the world!
Follow us on Twitter: @TROPICALISMOphl
Check out the FB page Tropicalismo Mundial
Don Q Rum specials all night!
$3 cover 9-10:30 with RSVP below
$5 cover all night without

Comments
comments