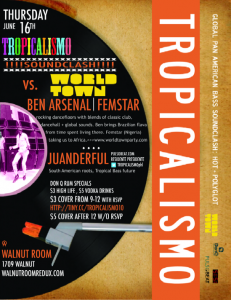 TROPICALISMO is back this week with a !!SOUNDCLASH!! edition! This is what Wikipedia has to say about soundclash: "A Sound clash is a musical competition where crew members from opposing reggae sound systems pit their skills against each other. Sound clashes take place in a variety of venues, both indoors and outdoors. Primarily featuring reggae (or dancehall) music, the object is to beat or "kill" their competitors."
This Sound clash is between TROPICALISMO and World Town.  World Town is a crew in the city (Philly) doing similar tings to Tropicalismo.  Also pretty new to the scene, starting  at the beginning of this year. World Town are Ben Arsenal and Femstar.  Ben Arsenal has been rocking the Philly scene with his global house sounds.  He brings some influence from the time that he spent living in Brazil.  Femstar is of Nigerian descent and he's been doing it up around the city  as well with his world sound.  Obviously bringing all that funkiness that Africa has to offer.
Juanderful, residente presidente, will be bringing that Colombian, Caribbean funk to mash it up some more. Come out this Thursday June 16th! RSVP below!!
Walnut Room
1709 Walnut St
Philadelphia, PA
$3 cover til Midnight with RSVP
$5 without RSVP
Comments
comments