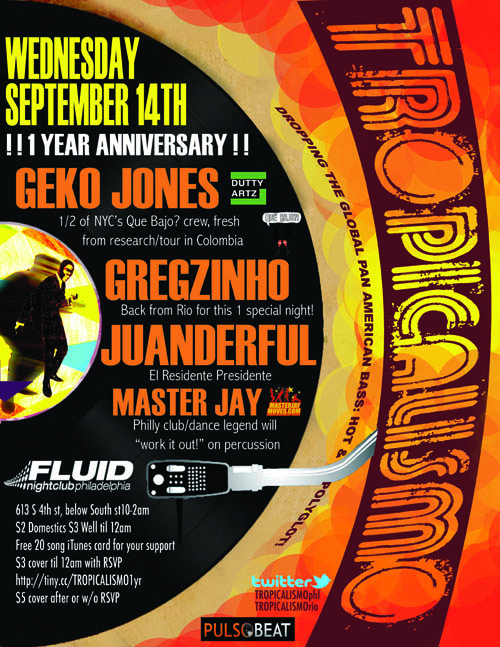 Back to back tropical storms are just a prelude to the steamy sounds coming to Fluid Nightclub on Wednesday, September 14th. In September 2010, Philly DJs Juanderful and Gregzinho launched Tropicalismo, a party to promote the music of Latin America, Africa, and the Caribbean – both old-school rhythms and nu-skool riddims. They stitched together dusty salsa vinyl on Colombia's Discos Fuentes with French Caribbean drumming on records rescued from Paris and '70s Carnival samba recordings bartered for on the streets of Rio. As the night progressed, the analog switched to digital and Puerto Rican reggaetón mingled with Ghanaian hip-hop, dancehall switched from patois to español as it jumped from Jamaica to Panama, and Brazilian baile funk brushed up against South African kwaito and Angolan kuduro. The night garnered praise from Philly to Germany.
To set the tone, the crew called on Uproot Andy (NYC / Que Bajo), whose remixes amp up everything from Colombian cumbias and champetas to West African songcraft to Panamanian hip-hop. All the while, local percussionist Master Jay (Work It Out!) kept the conga flowing, whatever the tempo. Flash forward to September 2011: Master Jay is back on tap, along with Geko Jones (NYC / Dutty Artz, Que Bajo?!), the other half of the infamous Que Bajo crew, known for their Time Out NYC-approved Brooklyn-to-Bogotá dance floor domination, and co-founder of the forward-thinking Dutty Artz label. A self-described "Puerto-lombian," Geko is just back from Colombia, no surprise, where he has taken his ethnomusicologist's sensibility to bring back fresh influences on his genre-spanning mixes, recently highlighted by NPR's Alt.Latino, and working on a documentary, Pico de Gallos, about the underground music scene in Colombia.
Check out his latest adventures bringing tropical bass to the streets of Caracas!
[youtube]http://www.youtube.com/watch?v=VDwLcleSgH8[/youtube]
Meanwhile, over the last year Tropicalismo has hosted DJs from Brazil, Venezuela, Argentina, Miami, Montreal, and NYC. February's #1 ranked Carnival edition blew the roof off with a Brazilian-Caribbean soundclash care of Alex Shaw (Philly / Alô Brasil) and Poirier (Montreal / Ninjatune). May's release party for 8 Inches of Moombahton showcased the emerging genre with local DJs and producers Apt One and Skinny Friedman of the Philadelphiynz, Obeyah, and Uncle Jesse. Gregzinho has spent the better part of the year based in Brazil, where he has kept up on the latest in baile funk in Rio's favelas, explored the changing musical and cultural dynamic of the Brazilian northeast, linked up with São Paulo's underground graffiti, hip-hop, and dancehall scene, and rocked parties from Rio to Argentina. Juanderful has been el residente in the Illadelph and spent much of the summer on tour out west, where he linked up in Vancouver with Oro11, the head honcho of San Francisco's Tormenta Tropical.
A hemisphere and a half under one roof with transatlantic riddims from the Afro-Latin-Caribbean universe, Tropicalismo embodies the multicultural spirit of Philadelphia and the increasingly sonorous sound of nuestra América.
Tropicalismo One-Year Anniversary
Geko Jones (NYC / Dutty Artz, Que Bajo)
Residents: Juanderful and Gregzinho
Special guest: Master Jay
Fluid Nightclub, 613 S. 4th St. b/w South and Bainbridge
10 pm – 2 am, 21+, $2 domestic beers/$3 well drinks til midnight
Free 20 song iTunes card until midnight
$5 cover, or $3 until midnight with RSVP below!


Comments
comments