Tijuana Love – Escapemos
More about the band:
Guatemalan based, house-fusion pioneers Tijuana Love have emerged as one of the most in demand groups in Central America. Their rousing blend of rock n' roll and electronica is steeped in Latin influences, softening the methodical sound of western EDM with the natural involvement of Spanish rhythms. The bands bilingual self-titled debut, Tijuana Love, arrives stateside July 1, 2014, a perfect summer release, positioning the band for cross-over success.
Direct Video Link:
https://www.youtube.com/watch?v=7Yt26n2J4U0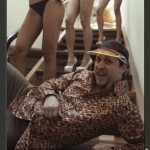 Comments
comments