Barcelona-based electronic act The Pinker Tones have announced a short U.S. spring tour following their recent win at Spain's "Premios De La Musica." They were awarded "Best Electronica Song" for the track "S.E.X.Y.R.O.B.O.T."
This is the group's first U.S. tour since its epic 44-date run across America on the Vans Warped Tour last summer. The dynamic duo had performed an extended set each night in the Skull Candy electronic music tent and were also added to the Skate Stage by Warped Tour founder Kevin Lyman for the second half of the tour. They were the only Latin act on the entire tour.
The Pinker Tones' latest album 'Wild Animals' was one of last year's most critically-acclaimed releases, with rave reviews ranging from Rolling Stone and Spin to New York Times and People en Espanol.  'Wild Animals' features a wide array of special vocal guests including reggae soul legend Jimmy Lindsay from Cymande on "The Whistling Song" and Amparo from Spanish band Amparanoia on "Electrotumbao".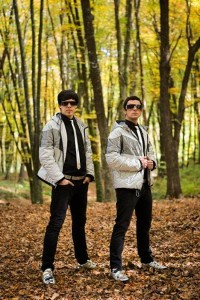 Please support great music and check them out:
May 1 – Transit Lounge – Miami, FL (with Kinky)
May 2 – La Oveja Negra – New York, NY (with Kinky)
Myspace: http://www.myspace.com/thepinkertones
Related Blog:
Comments
comments