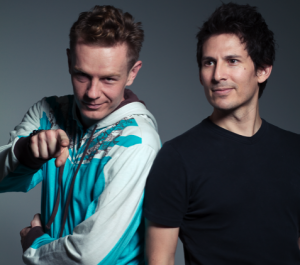 What can we say but to first start out by giving a huge thanks to Jeff Guerra and Robin Finley at The Arepa, Medellin's English Magazine. Without these guys, PulsoBeat's presence at Unconvention Medellin would have been impossible.  We reached out to them after we received confirmation from Unconvention that we were invited as press to cover the event; that gave us little less than a month to come up with a game plan. Since none of us at PulsoBeat were able to personally make it out to the event at the end of May, we decided to see if The Arepa wanted to represent PulsoBeat at Unconvention. Personally, we think these guys are great! Even though they had their own thing going on for the event, they were still gracious enough to lend us a hand and return with a great article.
If you love what we do here at PulsoBeat, you'd be crazy not to follow The Arepa and everything that they're doing. These guys are pioneers in Medellin, Colombia, a city that is in the process of a great cultural makeover. They cover the independent/underground scene in Medellin, thats growing stronger and healthier than anybody could ever imagine, by putting out an amazing bi-monthly digital and printed magazine. They host their own English language radio show called Prime Cuts Radio,which is broadcast from the University of Antioquia on 101.9FM every Saturday at 9pm in Medellin.  Add to all of this the fact that they do all their coverage and material in English in a city that is just beginning to culturally embrace foreigners. We love you guys and we hope to continue collaborating on a more consistent basis. This is PulsoBeat and The Arepa's coverage of Unconvention Medellin 2010. Pulso y Pa' lante!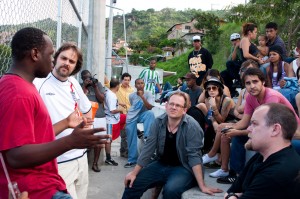 Un-Convention Medellin just concluded on May 21, and the independent music industry conference was another unqualified success in the ongoing cultural makeover currently underway in Colombia's second largest city. Founded in Manchester, England, this was the 8th version of Un-Convention, and the first held in the Americas. Through free interactive workshops, conferences and forums, the 3-day event aims to provide alternative, independent options to would-be music industry professionals in some of the world's fledgling creative outposts.
Medellin's selection dates back a year ago, when Un-Convention founder Ruth Daniel met Colombian music entrepreneur Martín Giraldo during a visit to the city. In addition to noting its exploding music scene, the pair discussed Medellin's similarity to Manchester in its current attempt to transition from an industrial to cultural capital. They immediately concluded the time was right, and began working to make it happen.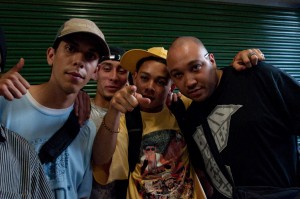 Though Un-Convention is not genre-specific, electronica, hip hop and experimental cumbia were strongly represented throughout the Medellin event. The latter two in particular are worthy of note; hip hop for instance has an established tradition of documenting urban life through powerfully delivered lyrics, and for many local artists this is a perfect vehicle for creatively working through Medellin's recent violent past. While access to and quality of education is clearly improving in the barrios, poverty and a resulting lack of production tools has hindered the scene's development. Here, then, is where Un-Convention did some of its best and presumably longest-lasting work.
Looking for new ways to advance a traditional Colombian rhythm, the so-called "Nueva Cumbia" movement is a laboratory for some of Un-Convention's future-focused principles. Unlike recent Latin/electronica "fusion" projects featuring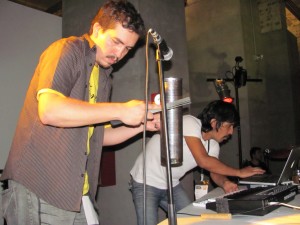 tango and samba, Nueva Cumbia is taking an existing form in an organically
new direction as opposed to fusing its melodic elements with house or techno beats. Local artists Frente Cumbiero and Cero 39 are flying the Colombian flag in this genre, standing tall alongside the scene's other luminaries in Argentina and Mexico.
Un-Convention's panel members were every bit as advertised – insightful, innovative, and unfailingly generous from start to finish. It was an enormous gift having them here, and a powerful statement that Medellin is ready to participate in the global marketplace.
http://unconvention.wordpress.com/
http://www.unconventionmedellin.com/
**Photo Credits:
All pictures including title picture, and excluding first and last picture were taken by Daniel Gomez.
Last picture taken by Robin Finley.

Comments
comments