PulsoBEAT- This is MUST SEE Showcase!
Performing @SXSW Thursday, March 18 at 11:00PM at Flamingo Cantina
Systema Solar is a musical-visual collective from the Caribbean coast of Colombia.
It 's members, originating from a diversity of territorial and sonorous latitudes have found in the afro Caribbean vibrations a sea of possibilities to renovate the strength and spirit of Colombian music. The objective of the collective is to create audio-visual performances with their own style which they denominate the "berbenautika". Influenced by the spirit of the Colombian piko culture (sound systems style performances), the members of the group come together to create, adapt and reinvent different music through improvisation, emphasizing the cult of joy and dance. They recycle the afro Caribbean and folkloric music of Colombia such as cumbia, bullerengue, porro and champeta and fusion these through electronic tools with contemporary rhythms and cultural styles such as hip hop, house, techno, breakbeat, breakdance, turntablism and live video performance. Systema Solar was created at the end of 2006 for a performance at the opening ceremony of the biennial of contemporary art of Medellin MDE07, since then, the group has presented itself all over Colombia and released its first CD in 2009 titled Systema Solar.
Come and dance with us, Systema Solar!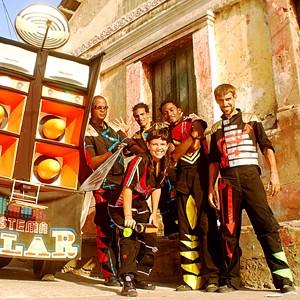 Systema Solar is proud to present:
Jhon Primera: The devil of the Caribbean flow
Indigo: The voice of take off
Pellegrino: The sonorous architect
Daniboom: The king of cumbia techno
Pata de perro: The infallible video jockey of the Colombian movie
Kike:The tornado of Caribbean rhythm
DJ Corpas: The giant of afro Colombian scratch
you can watch our videos in this links:
mi kolombia live in bogota: http://vimeo.com/6728197
10 minute documentary about the band: http://www.youtube.com/watch?v=dp4cTaiDwF4
Biographies members:
John Primera is an MC that represents Caracas and Cartagena de Indias, thanks to his unique flow, in 2007, he won both the Batalla de Gallos organized by Redbull and Nokia Trend in Bogota.
Indigo who is from Turbaco a small afro Colombian town on the Caribbean coast is a social communicator, investigator of afro music and one of the most important promoter of Colombian hiphop culture, additionally he is DJ, dancer, narator and MC. He is recognized in Colombia for his unique talent as master of ceremonies.
Pellegrino, Colombian musician and sound engineer exported to France, where he worked for over 10 years in the production of electronic music with groups such as Crydamoure (Daft Punk), Bananarama and major recording labels.
Daniboom is one of the most recognized techno DJ's in Colombia. He has been spinning techno records in since 1995 and is responsible for co founding some of the most important collectives and festivals of Bogota's underground electronic scene; Mutaxion and Bogotrax.
Patadeperro, is one of the forerunning video jockeys of the Colombian scene, recognized for her documentary style which brings Colombian everyday life to the screen. She has presented herself in important festivals at a national and international level, such as Bogotrax in Bogota, ISEA 2006 in California and Pixelache in Finland.
Kike from the city of Santa Marta on the Caribbean coast, is a percussionist with a long running experience at an international level. Additionally to his role in Systema Solar he is presently playing with Sidestepper from Bogota and Calle 13 from Puerto Rico.
DJ Corpas, from Cartagena de Indias developed his skills and style while working within Medellin's hiphop scene as the DJ for one of Colombia's most important independent hiphop labels, Kmusic.
Comments
comments