English Recap: The video, recorded on the streets and at the bars of Guanajuato, Mexico, is a true reflection of the song's festive mood. It is a real anthem in honor of leisure and beers among friends at the long-awaited weekend onset.  Both tracks, "Viernes de Webeo" and "Nunca Fue", have been produced by Chiquis Amaro, and the video has been directed by Silvia Tort.
Banda mexicana Panteón Rococó: El video, grabado en las calles y bares de Guanajuato, México, es un fiel reflejo a la festividad del tema. Un verdadero himno al esparcimiento entre amigos y cerveza en el esperado inicio de fin de semana. La producción de ambos temas "Viernes de Webeo" y "Nunca Fue", estuvieron a cargo de Chiquis Amaro y el video fue dirigido por Silvia Tort.
La gira de Panteón Rococó comienza en Los Angeles (octubre 9) y continuará en Oxnard, CA (octubre 10), Anaheim, CA dentro del Festival de La Tocada (octubre 11), San Jose, CA (octubre 12), Dallas, TX (octubre 16), Denver, CO (octubre 17) y Chicago, IL (octubre 18).
Con 19 años de trayectoria y seis discos en estudio, Panteón Rococó sigue inyectando grandes dosis de energía con cada concierto y asi aumentando su ejercito de paz que se ha hecho presente en cada gira. Panteón Rococó es uno de los pocos grupos que ha recorrido una gran parte de los escenarios y festivales de su natal México y realizado giras internacionales que los han llevado a recorrer gran parte del territorio europeo, norteamericano y algunos países de Centro y Sudamérica, compartiendo su fiesta con conciencia del oficio musical que les permite llegar hasta el último rincón posible.
Este año ha sido muy importante para Panteón Rococó a nivel musical ya que han continuado con sus extensos viajes y presentaciones, realizando su décimo cuarta gira por Europa, que incluyó participaciones estelares en los más importantes festivales: Hurricane y Southside en Alemania y Greenfield en Suiza. En Estados Unidos tocaron en el Neon Desert Festival de El Paso, Texas, y en México destaca su reciente actuación en el Festival Que Me Pregunten ante más de 80,000 personas.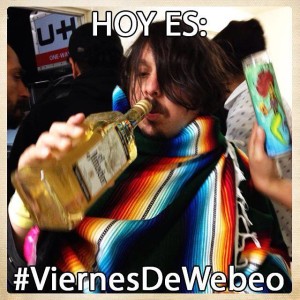 Comments
comments