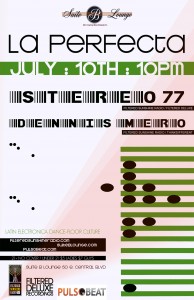 From the Guys that brought you "Beats from the Barrio", Filtered Sunshine Radio and PulsoBeat.com present La Perfecta. An evening dedicated to Latin Electronica Dance-Floor Culture.
La Perfecta translates into "The Perfect One" – in this case, representing the deepest selections of Tropical Bass, Moombahton, Digital Cumbia, Salsa Clasica, House, Dub and all vibes inspired by the culture and sounds of the Caribbean.
The first of it's kind in Central Florida, this event will soon become a favorite amongst many!
Featuring live performances from:
Stereo 77 (FSR / Research Deluxe / Plimsoll Records)
Dennis Mero (Filtered Sunshine Radio / Thinkdifferent)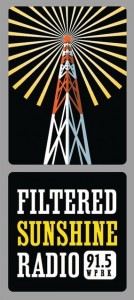 As a sample of what to expect, we offer the latest DJ mixes from both Stereo 77 and Dennis Mero for you to stream or download.
Feel free to share, post, download, burn to a CD or give them to your friends on their birthday!
"Fue Sin Querer Queriendo (A Moombahton Mix)" by Stereo 77
21+ No Cover / Under 21 $5 Girls and $7 Guys / Dancing is mandatory
$3 Domestics, $4 Coronas, $5 Malibu Rum Cocktails, $5 Pinnacle Flavored Vodkas and Bombs
For more info, please visit:
www.suiteblounge.com
www.filteredsunshineradio.com
50 E. Central Blvd.Entrance on Magnolia Ave
Comments
comments