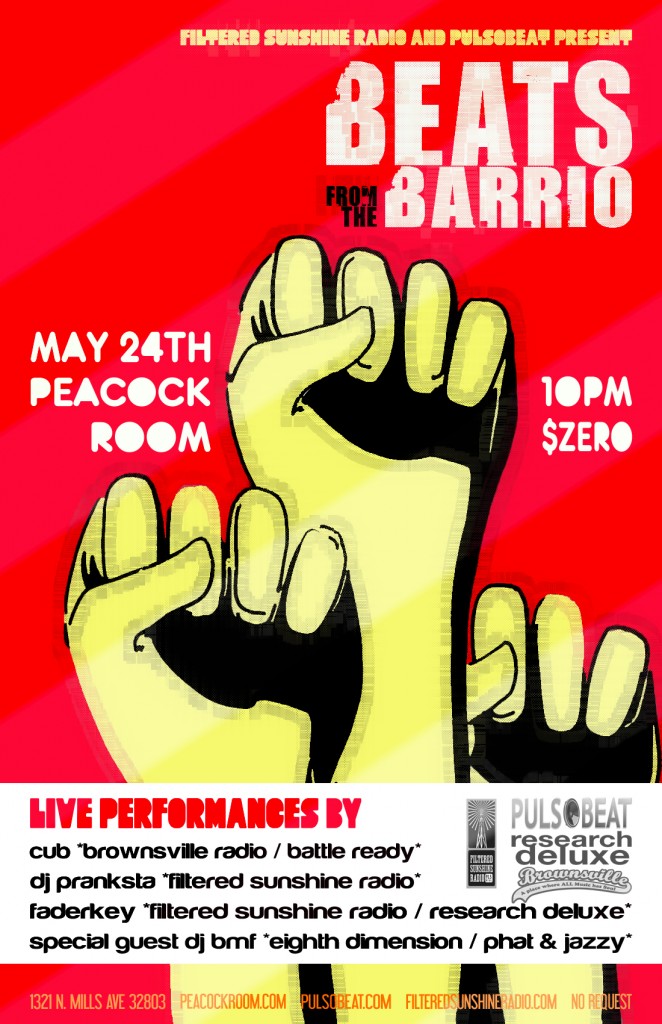 Orlando!!! On May 24th @ the Peacock Room, Filtered Sunshine Radio and PulsoBeat proudly present Beats From The Barrio.
An evening of the finest and deepest selections of dancefloor flavours from all across the globe, as performed by Central Florida's most diverse and forward thinking DJs and musicians.

For month two of this already popular event, the Filtered Sunshine Radio crew put together an all star lineup of the most heavy hitting veteran and up and coming tastemakers in Florida, featuring CUB, DJ Pranksta, FADERKEY and our very special guest, DJ BMF.
The concept behind Beats From The Barrio is to bring forth and present the listener & club-goer alike, an alternative approach to what "Dance Music" can sound like… Baile Funk from Brazil or Tropical Bass from the Caribbean… How about some Latin influenced Dancefloor Jazz, House, Dub, Funk and Disco? In short, a global movement via sound, inspired by and from the barrio.
Meet this months players and download some FREE music!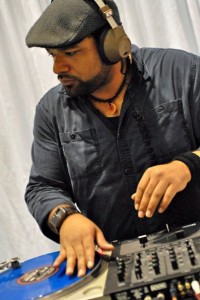 CUB (Brownsville Radio on WPRK 91.5FM) "An extraordinary DJ and Avant-garde musician hosting the most unique monthly events throughout Central Florida and Miami at Kill Your Idol. His cultural roots can be found branching through his birthplace of Chicago, and his childhood home of Trinidad. A fan of the obscure and different, as well as popular classics, he is sure to string together an audible landscape that both comforts and excites."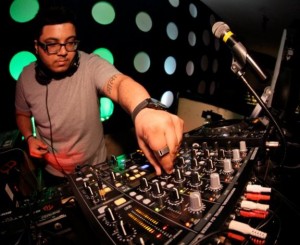 DJ Pranksta (Filtered Sunshine Radio on WPRK 91.5FM) "Since joining the Filtered Sunshine Radio collective, DJ Pranksta has quickly become one of the most popular and in demand DJs in Central Florida. His "Banger" sets travel from Tech and Dutch House flavors into a seamless history lesson of Golden Era Hip Hop vs new school joints."

FADERKEY (Filtered Sunshine Radio / Research Deluxe / The Flavor Archive) ""Conceived by Stereo 77 (founder / host of Filtered Sunshine Radio and recording artist for Research Deluxe & Plimsoll Records) FADERKEY rewrites all ideas of what a "DJ set" should be… Digging deep into their Latin roots with a Descarga style presentation, on the fly remixing, sampling and original productions from Stereo 77 with a layer of live synthesizers, manipulated and rewired via effects and guitar pedals by Jorge Collazo."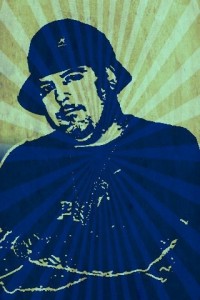 DJ BMF (Eighth Dimension / Phat & Jazzy) "Greg Lentz is BMF, a pioneering DJ and producer from Florida's burgeoning Dance and Hip Hop scenes. BMF has earned fans all over the world with his unique mix of Hip Hop, Soul and Jazzy beats. Co-founder of the Phat-N-Jazzy club night, one of the longest running and most successful nights of it's kind in the U.S., BMF takes charge of any dancefloor and proves time after time why he is the one and only Bad Mutha F#cka!"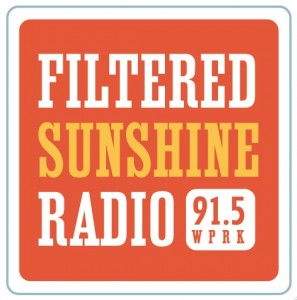 RSVP to the FaceBook Invite HERE!
And as promised, free music! DJ BMF "Lat-N-Jazzy Mix"
DJ CUB "Beats From Barrio Mix"
DJ Pranksta "BANGERS Mix"
FADERKEY "Filtered Sunshine Radio Live Mix"
Stereo 77 "Arroz Con Leche / WMC 2011 Mix"
Comments
comments