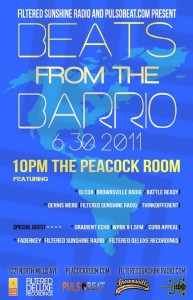 Filtered Sunshine Radio and PulsoBeat proudly present the 3rd installment of Beats From The Barrio.
An evening influenced by the scorching Florida summer heat, the Filtered Sunshine Radio crew put together an unmistakable lineup of heavy hitting veteran and up and coming tastemakers to provide the ultimate soundtrack to your summer vibe! Featuring CUB, Dennis Mero, FADERKEY and our very special guest, Gradient Echo.
CUB (Brownsville Radio on WPRK 91.5FM)  An extraordinary DJ and Avant-garde musician hosting the most unique monthly events throughout Central Florida and Miami at Kill Your Idol. His cultural roots can be found branching through his birthplace of Chicago, and his childhood home of Trinidad. CUB "Beats From Barrio Mix"
Dennis Mero (Thinkdifferent / Filtered Sunshine Radio / Ritmo Beast) Co-host for Filtered Sunshine Radio, Hair Mechanic extraordinaire and one of the most contrasting taste makers around. A finalist in the 2010 Red Bull 3style competition, Dennis Mero certainly makes your feet Thinkdifferent as they burn up the dance-floor!  Dennis Mero "Electropico Mix"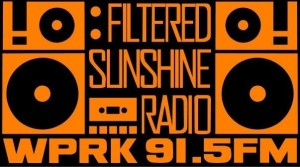 FADERKEY (Filtered Sunshine Radio/Research Deluxe) Conceived by Stereo 77 (founder / host of Filtered Sunshine Radio and recording artist for Research Deluxe & Plimsoll Records) FADERKEY rewrites all ideas of what a "DJ set" should be… Digging deep into their Latin roots with a Descarga style presentation, on the fly remixing, sampling and original productions from Stereo 77. FADERKEY April Showers Mix 2011
Gradient Echo (WPRK 91.5FM / Curb Appeal) Gradient Echo has rocked the airwaves for over 8 years with his signature and seamless live sets that travel into the the deepest depth of Dub, Downtempo, Classic Hip Hop and funkiest forward thinking future sounds. Check out the latest mix from Gradient Echo PASSPORT PHYSICS MIX
RSVP by clicking HERE!
Comments
comments