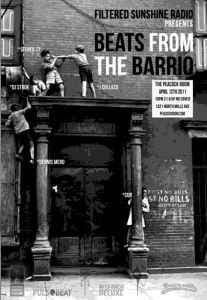 Filtered Sunshine Radio and PulsoBeat proudly present Beats From The Barrio. An evening of the finest and deepest selections of dance flavours from all across the globe, as performed by Central Florida's most diverse and forward thinking DJs and musicians.

The concept behind Beats From The Barrio is to bring forth and present the listener & club-goer alike, an alternative approach to what "Dance Music" can sound like… Baile Funk from Brazil or Tropical Bass from the Caribbean… How about some Latin influenced Dancefloor Jazz, House, Dub, Funk and Disco? In short, a global movement via sound, inspired by and from the barrio.
Meet this months Sound Selectahs and download some FREE music!
CUB (Brownsville Radio on WPRK 91.5FM) "An extraordinary DJ and Avant-garde musician hosting the most unique monthly events throughout Central Florida and Miami at Kill Your Idol."
DJ Struk (Villains League Radio) "A personal favorite DJ amongst the Filtered Sunshine Radio family, Struk is a party rocker unlike any other! Seamlessly flowing from Rare Grooves to heavy dancefloor movers, and everything in between."
Dennis Mero (Thinkdifferent / Filtered Sunshine Radio / Ritmo Beast) "Co host for Filtered Sunshine Radio, Hair Mechanic extraordinaire and one of the most contrasting taste makers around…"
Stereo 77 presents FADERKEY (Filtered Sunshine Radio / Research Deluxe / The Flavor Archive) "Conceived by Stereo 77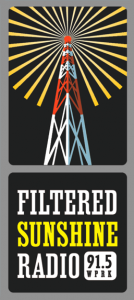 (founder/host of Filtered Sunshine Radio and recording artist for Research Deluxe & Plimsoll Records) FADERKEY rewrites all ideas of what a "DJ set" should be…
On the fly remixing, sampling and original productions from Stereo 77 with a layer of live synthesizers, manipulated and rewired via effects and guitar pedals by J. Collazo.
FREE DOWNLOADS:
Stereo 77 April Promo Mix
Arroz Con Leche / WMC 2011 Mix by Stereo 77
FADERKEY / Filtered Sunshine Radio live mix
MLK AIR (Stereo 77 Ricanstruction)
Dennis Mero & Jorge Collazo Electropico Mix
Comments
comments