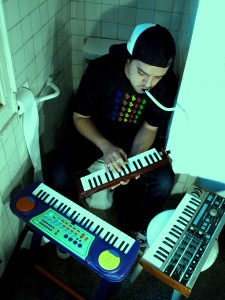 Nick Calaveras' name may not give many clues as to who he is, but his stand out musical character is not to be doubted. Son of an actor and raised in a strict disciplinary Chilean household, Nick's first approach to music was through the guitar. Influenced by hiphop's biggest acts he picked up the turntables, organized parties and invested in his interest in music, molding his skills into a beat maker with the help of various mentors.
In the last three years, Nick Calaveras has been heavily involved in the national scene playing live shows with artists like Elefante Mecánico, Anzestro, Tiro de Gracia, and Tea Time. He also has been producing for Ceaese, Código Primo and Vitami while simultaneously preparing the tracks for his own album. You can find his music on his SoundCloud page where you can get a taste of his hiphop stylized instrumentals and deep bass grooves. His instrumentals are well produced and great samples can be heard in 'Rebel', providing a rich hiphop experience for those who love a good sample to bring out the beat.
After an extensive tour, Nick Calaveras, the world hiphop producer, presented his first album, 'La Receta' which was released in the summer of 2010, preceded by the single 'Go', including collaborative efforts by Juan Sativa (Tiro de Garcia) and Tea Time (Los Tetas and Funk Attack), two distinctive voices in Chilean Rap.
Nick Calaveras keeps the essence of hiphop alive in his own music. This may just be the reason why he can be easily loved by hip hop heads and beat junkies around the world. With much of his newest work on his new album, 'La Receta' he will be sure not to disappoint…..adding a pinch of this and a little of that to his beat heavy main course meal!
You can get a taste of  'La Receta' right now with the free download 'Vete' featuring Juan Sativa and Tea Time! Check it out below!
Nick Calaveras Feat. Juan Sativo & Tea Time-Vete by Nick Calaveras La receta
Comments
comments