Mr. Bird – La Playa (Stereo 77 Remix)
Anything Stereo 77 touches becomes a hit. Congrats on making it to the ListaBeat Electronica Charts.
More about Stereo 77 :
Stereo 77 (Plimsoll Records / UrbanWorld Records / Filtered Sunshine Radio) is a DJ, producer, crate digger, and radio host born 1977 in Puerto Rico.
He began his DJ career in 1998 lining up multiple residencies throughout the Central Florida region, as well as opening and sharing the stage for such acts as DJ Vadim, Ancient Astronauts, DJ Sabo, KidGusto, J-Boogie's Dubtronic Science, South Rakkas Crew, and many more.
By no means a traditionalist, Stereo 77's productions and DJ sets are a melting pot of multi-genre flavors, soaked in Afro-Caribbean spices with a heavy dose of dance floor beats & breaks!
Since 2010, Stereo 77 has released a series of 5 EP's via Plimsoll Records and Research Deluxe, plus a collection of remixes for Empresarios, Los Chicos Altos, and Thomas Blondet, just to name a few.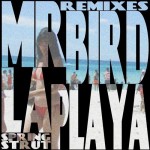 Comments
comments