MEXICAN DUBWISER – BAD BEHAVIOR
English Recap: Marcelo Tijerina, known internationally as Mexican Dubwiser, is back, presenting an electrifying new single: "Bad Behavior" Born in Monterrey, Mexico, and residing in Los Angeles, CA, Marcelo Tijerina keeps his post-futuristic sound on his new album Electric City, which was produced by  Ulises Lozano and Marcelo himself.
Mas sobre MEXICAN DUBWISER  :
"Bad Behavior" es un tema que confirma la evolución del  sonido fácilmente identificable como el estilo propio de Mexican Dubwiser, con grandes invitados que incluye a Myron Glasper,Ulises Lozano (Kinky), Billy Gould (Faith No More), Cesar Pliego & Omar Gongora.
Nacido en Monterrey, México y residente de Los Angeles, CA, Marcelo Tijerina mantiene su sonido post-futurista sin tiempo alguno en su nuevo álbum Electric City, el cual fue producido por Ulises Lozano y el propio  Marcelo. En este disco, Ulises Lozano se suma como miembro activo de la banda. El disco será editado simultáneamente en Estados Unidos y Canada por Kool Arrow Records y en México por el sello Terricolas Imbéciles. Y en el resto del mundo por Kin Kon Records.
Aquellos familiarizados con la música latina contemporanea, pudieron reconocer algunos excelentes colaboradores como invitados en Revolution Radio. Para Electric City algunos regresan y otros mas se sumaron. Entre ellos, El Gran Silencio, Randy Ebright de Molotov, además de Pato Machete, Celso Piña, Ulises Lozano y otros miembros de KINKY, Serko Fuentes. También sobresalen algunos de los mejores MCs de la escena alrededor de Los Angeles como Rocky Dawuni, artista de reggae de Ghana, Africa, El cantante de Soul Myron Glasper del grupo Myron & E (Stone Throws Rec), el MC de Hip Hop Longevity y Treasure Don nacido en Jamaica y residente en New York, entre  muchas mas excelentes colaboraciones.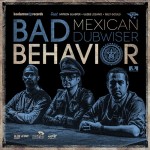 Comments
comments