This song is a heater. If you haven't heard of Mariel Mariel she has got it all and we are happy to present you all to her new jam.
Mariel Mariel – Los bajos vibran en mi pecho- Latino Chill Out
Check out the cool video too!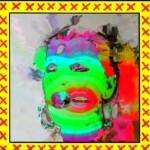 More about the album:
Mariel Marel presents "Foto pa ti" ("Picture for you"). A latin blood EP, urban music created between Mexico, Chile and Colombia, for this chilean girl with power rythms, who came to Mexico to give the female touch to the "barrio music".
Songwriter and instrumentalist, Mariel had colaborated with Natalia Lafourcade, Carla Morrison, Bomba Estereo, Erick Rincón, Torreblanca, Leonel García, Pedro Piedra, Manuel García, and more.
A sound that propose a new language, sexy melodies and hot rhymes plus a brilliant musical production by Andres Landon, make this EP a revelation in the latin alternative scene.
Comments
comments