— Este Articulo esta en Español y Ingles- This article is in Spanish & English—
Saludos de los Dos Mundos,
Queremos empezar con un gran saludo a Uproot Andy,  Toy Selectah y a toda la buena gente que vino a bailar con nosotros en el Funkété Vol. 3! Atención Cumbiamberos… Huelepega Sound System toca con LAL y DJ Anousheh en el Toronto Tabla Ensemble (355 College St. 2nd Floor) este viernes 12 de Junio! También – Dos Mundos Radio esta muy orgulloso de estar conectando con la buena gente detrás de la mejor fiesta Brasilera en Toronto Uma Nota para el próximo evento! El Viernes 10 de Julio, invitamos por la primera vez en Canadá, artista de Sao Paulo Curumin y su agrupación de Samba-Funk! Todo va pasar en El Mocambo, manténganse conectados con Dos Mundos por mas información.
Esta semana, Dos Mundos tiro para la vieja escuela – seleccionando algunas joyas de Boogaloo, Funk Latino, Rock Latino, Salsa, Cumbia y música Brasilera para tratar de sacar ese sol de su cueva!  Notaron que esta semana tocamos muchos tracks del sello Soundway – eso es por que nos acaba de llegar "Panama 2! Latin Funk and Calypso on the Isthmus 1967-77" y lo único que se puede decir es SAAABBOOOOORRRR!!!
Y acuérdense mis amigos, si aun no lo han hecho, búscanos en Facebook y Myspace, (nuevo) Twitter y (nuevo) Flickr. Ahora pueden escuchar el programa repetido en www.ciut.fm. Y también los podcasts.
Hasta La Próxima! Sergio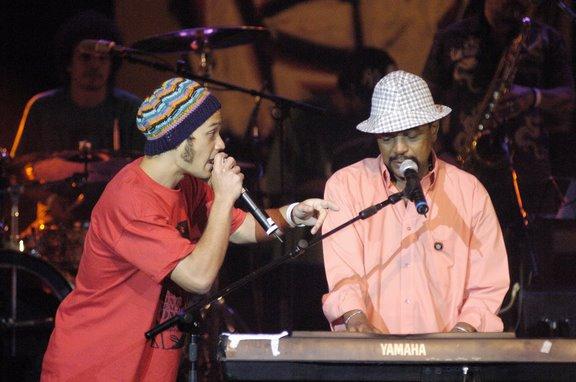 English:
We want to start out by bigging-up  Uproot Andy,  Toy Selectah and all the Amazing people that came out to pop that booty and make Funkété Vol.3 a big success! Attention Cumbiamberos…Huelepega Sound System plays with LAL and DJ Anousheh at the Toronto Tabla Ensemble (355 College St. 2nd Floor) this Friday June 12th! Also – Dos Mundos Radio is very proud to be partnering up with the fine folks behind Toronto's premier Brazilian-Funk party Uma Nota for this next exciting event! On Friday July 10th we welcome for the first time in Canada, Sao Paulo recording artist  Curumin and his samba-funk band! It's all going down at El Mocambo, stay tuned to Dos Mundos for more details!
This week, Dos Mundos took it to the old school – picking a choice selection of Boogaloo, Latin Funk, Latin Rock, Salsa, Cumbia and Brazilian grooves to coax the sunshine out from hiding. You'll notice we dropped a lot of Soundway tracks this week – that's because we just got the brand new "Panama 2! Latin Funk and Calypso on the Isthmus 1967-77" and all we can say is SAABOOOOORRRRR!!!
And don't forget my friends, if you haven't already – check us out on Facebook and Myspace, (new) Twitter and (new) Flickr. Oh and you can now stream repeats of the show on www.ciut.fm. And of course, the podcasts.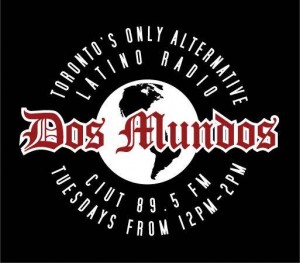 Playlist for June 9th, 2009
Los Papacitos – Jazzy – Soundway
Manny Corchado – Pow Wow – Honest Jons
Alfredo Linares – Tutu Tata – Vampisoul
Bobby Rodriguez – Recuerdos de Araño – Soul Jazz
Harvey Averne – Never Learned to Dance – Jazzman
Eddie Palmieri – Condiciones que Existen – Harmless
Fania All-Stars – There You Go – Fania
Nico Gomez – Baila Chiquiban – Follow Me
Los Flippers – Oye – Guerssen
Rebel Rhythm – Antillano – Firegrooves (CANADA)
Henry Fiol – Tiene Sabor – Astralwerks
Los Silvertones – Tamborito Swing – Soundway
Adikwa Depala – Matete Paris – Honest Jons
Wganda Kenya – Tifit Hayed – Soundway
Afrokyou – Lumaga – Ind. (CANADA)
Alfredo y su Salsa Montañera – La Escoba – Soundway
Andres Landeros – La Pava Congona – Discos Fuentes
Cumbia Los Galleros – Soledad – Discos Fuentes
Fruko y sus Tesos – Campesina Charanga – Discos Fuentes
Cache – Llego el Sonero – Ind. (CANADA)
Michi Sarmiento y sus Bravos – Mirame San Miguel – Soundway
Willie Colon – Borinquen – Fania
Ruben Blades – A Los Muchachos de Belen – Nascente
Bio Ritmo – Shoes Shine – Locutor
Lady Son y Articulo Veinte – La Sonera de Canada – Ind. (CANADA)
Willie Colon – Quimbombo – Fania
Sergio Mendes – Magalena – Elektra
Copa 7 – Copa 7 Samba – Strut
Curumin – Compacto – Japan Pop Show – Quannum Projects
Marcos Valle – Mentira – EMI
Tim Maia – Marcio Leonardo e Telmon – Polydor
Toni Tornao – Podes Creer, Amizado – Strut
Toni Tornado – Me Libertei – EMI
Comments
comments