Saludos de los Dos Mundos!
Weeeeepaaaaa! Big show this week, mucha buena vibra y sabor in this week's mix. We got a giveaway! We got a party! We got MÚSICA!!!

A LO BRASILERO!
Our extended familia the UMA NOTA Crew is throwing down THIS FRIDAY night at the GLADSTONE hotel! I'm talking about the MONSTROUS sonido-from-Rio BATUCADA CARIOCA, the CULO-SHAKING beats from PAUL E. LOPEZ, the ELECTRIFYING grooves of DJ GENERAL ECLECTIC and the CHÉVÉRE sounds from the SIMMER DOWN CREW opening up the jam! I'm giving away two (plus one) guest list passes for THIS FRIDAY night to the FIRST and FIFTH person to email me with the subject line "Brazilify my vida!" Winners will be notified by email.
BARRIANDO!

Our brothers over at Barrio Nuevo have been working hard for the community, here and en nuestros países. Obviously it's hard to run a not-for-profit and it takes a lot of work, resources and time to make positive things happen. Dos Mundos Radio DJ eLman aka Armando Farras has the honour of joining the HOT lineup of their upcoming fiesta comunitaria as the closing DJ, alongisde DJ ELINTERNNN…no tengo el flyer so here's the info from the FB event:
Saturday January 23rd, 2010
CUPE 4400 (1482 Bathurst @ St. Clair West)
fiesta comunitaria
con DJ eLman
Baile, tambores y ritmos latinos de ayer y de hoy.
http://www.barrio-nuevo.org
barrionuevo.canada@gmail.com
———————-
Community party
With DJ eLman
Dance, tambores and latin rhythms from yesterday and today.
http://www.barrio-nuevo.org
barrionuevo.canada@gmail.com
Musica! Musica! Musica!
Three FREE giveaways that I thought would be nice for the list.
First is from one of our closest compadres in the game, DISQUE DJ! Here's a brand new REMIX of Mexican sweetheart pop star NATALIA LAFOURCADE's Cursis Melodias! Big remix! Watch out for some more business from el DISQUE!
Second, we have something that's a little old, but still something I've been steady loving since I first found it! Mix a little bit of Cumbia with a little bit of Bmore and you get SONORAs Soy Cumbia EP. Check out the write up and free download courtesy of the fine folks at GENERATION BASS!
And finally, fresh from the mind of nuestro hermano el CABALLO comes a banging new track that's the first of it's kind. Inna electro-champeta style, El Gozon!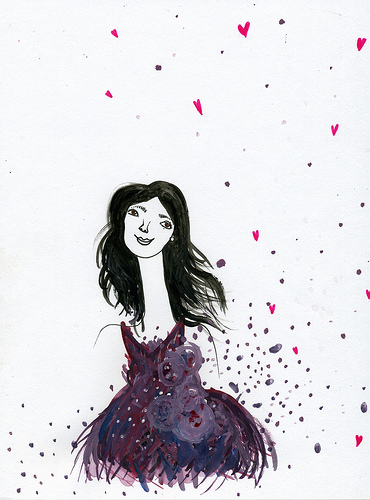 Es cantante, pintora, madre y un tremendo talento AND she lives right here in Toronto, Canada. LIDO! Lido's been very busy these days and getting a lot of LOVE, and it's well deserved! Here's some of her MUSIC ~ and, our favourite, her drawings of her personal INSPIRATIONS! BESOS LIDOOOO!
Hasta La Next-One!
Sergio
Playlist-
Brownout – Olvidalo – Six Degrees
Empresarios – Sabor Tropical – Fort Knox
Disque DJ – Mucha Muchacha – Ind.
Joel & Rebenga – Lamento en el Norte – No Label
Los Hijos del Pueblo – El Botecito – Discos Sammy
Los Polifaceticos – Que Chupe Lupe – Odeon
Los Van Van – Pero a mi Manera – Nascente
Rebel Rhythm – Sonrisas – Firegrooves (CANADA)
Toy Selectah – BKLYN Raverton Break – No Label
DJ Orion – Ritmo de Juventud – No Label
Systema Solar – Oye – Ind.
El Guincho – Kalie (Round Table Knights rmx) – XL/Beggars
Sonora – Ojitos – Ind.
Caballo – Electro-Champeta – No Label (CANADA)
Maria y Jose – Mi Chulita – No Label
Uproot Andy – Big Girl – No Label
Kye G2 – Pariguayo – No Label
Miss Bolivia – Bronca – Ind.
Beatnuts ft. Method Man – Se Acabo – Relativity
Irakere – Quindamo – Nascente
Ismael Miranda – Yo No Soy Jugete – Fania
Fruko y sus Tesos – El Preso – Discos Fuentes
Hilario Duran – La Contrapartida – Nascente (CANADA)
Tony Camargo – El Año Viejo (bootlegumachine rmx) – No Label
Negromoreno – Alta Technologic – Cabeza
Los Rakas – Cuando Hay Guerrapilla (stereotyp rmx) – No Label
Kafu Banton – El Madman – Ind.
Jhon el Legendario – Este Ritmo – No Label
Facesix – Vamos a Bailar – No Label
El Nosotros -Tu Cu Cu – No Label (CANADA)
Barney Iller – La Bony – No Label
Sonidero Nacional – Trick Me Cumbow – Sones del Mexside
Monkey Black – El Dembow del Mon – No Label
El Chombo – Papi Chulo (remix) – No Label
Disque DJ – LickItPapiChulo – No Label
El General – Caramelo (DjAlan rmx) – No Label
Meneo – Culo – Ind.
AMIGO US!

Facebook ~ Twitter ~ Soundcloud ~Flickr ~ Podcast ~ CIUT
Comments
comments