— Este Articulo esta en Español y Ingles- This article is in Spanish & English—
Saludos de los Dos Mundos,
Tuvimos un TREMENDO show esta semana! Gracias a nuestros invitados especiales DJs Valeo y Bendude quienes estaban en el estudio mezclando una prueba de lo que se puede esperar en Funkété Vol. 5 ESTE VIERNES! La fiesta va ser en the Basement ***nota: estamos moviendo la entrada a Queen St. ~ 659 Queen St. Al lado del Tim Horton's!*** Solo son $10 para entrar (2 por $15) y tenemos cervezas a $3.50 antes de las 11:30pm! Esta fiesta va estar CALIENTE, entonces preparense a rumbiar y mover ese CULOOO!! Aquí les mandamos un MIX especial para darles mas ganas!
Y acuerdense, antes que se vaya a Funkétiar, Huelepega Sound System toca un show gratis a las 8pm en el Yonge y Dundas Square en Toronto. Estamos abriendo el show para nuestros amigos Rebel Rhythm, entones tienen que llegar temprano para ver a Huelepega y luego se quedan bailando con Rebel Rhythm!
Y acuérdense mis amigos, si aun no lo han hecho, búscanos en Facebook y Myspace, (nuevo) Twitter y (nuevo) Flickr. Ahora pueden escuchar el programa repetido en www.ciut.fm.  Podomatic esta trabajando de nuevo – por favor avísame si tienen algún problema
Hasta La Próxima!
Sergio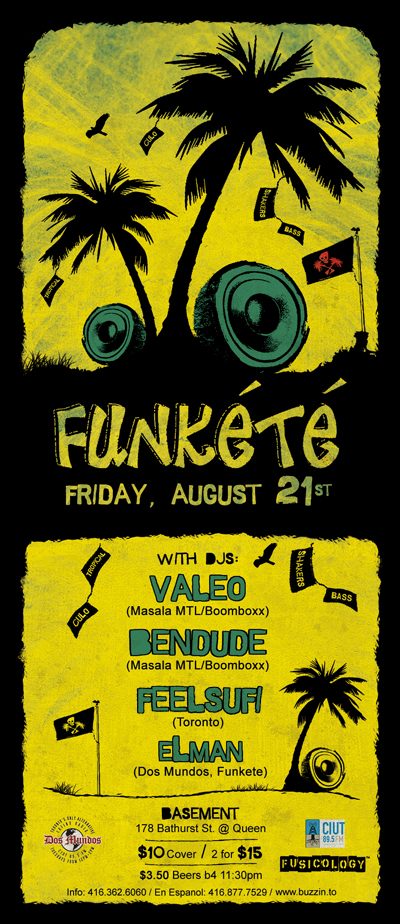 English:

We had a BIG show this week! Special thank you to our special DJ guests Valeo and Bendude who were in the studio mixing up a special sneak peek of the kind of Tropical Bass vibes you can expect from Funkété Vol. 5 THIS FRIDAY NIGHT! The party is going down @ the Basement ***note: we're moving the entrance onto Queen St. ~ 659 Queen St., next to the Tim Horton's!*** Only $10 cover (or 2 for $15) plus $3.50 beers before 11:30pm! This is going to be one HOT party, so come down and get ready to pop that CULOOOO!!! Check this hot MIX to get you in the mood!
On another note, before you get your Funkété-on, Huelepega Sound System is playing a free show @ 8pm at Yonge and Dundas square in Toronto on August 21st. We're opening for our other favourite group of Latinos, Rebel Rhythm! Show up early to catch Huelepega and stick around to dance to the Latin Funk sounds of Rebel Rhythm!
And don't forget my friends, if you haven't already – check us out on Facebook and Myspace, (new) Twitter and (new) Flickr. Oh and you can now stream repeats of the show on www.ciut.fm. Podomatic –is working again – but please message me if you have any issues.
Till next time!! Sergio

Playlist for August 18th, 2009
Disque DJ – Chespiriton – No Label
DJ Toty – Landero rmx – No Label
DJ Tito – Suave (cumbiaton rmx) – No Label
I.M.S. – Cumbia (Tom Tom Club rmx) – Nacional
Tony Camargo – El Año Viejo (bootlegumachine rmx) – No Label
Sonidero Nacional – Trick Me (Cumbion) – Sones del Mexside
El Nosotros – Tu Cu Cu – No Label (CANADA)
SDP vs Josefa Matias – Cumbia Soledad – No Label
Peter Rap – Punta – Essay Recordings
DJ Negro – Suave – No Label
Toy Selectah – Touch my Horn (Guacharaca rmx) – No Label
Aniceto Molina – El Campañero (Cumbia Crunk rmx) – No Label
Uproot Andy – Daft Cumbia – No Label
Kinky – Bailar Hasta Quemarmos (NSMPSM rmx) – No Label
Chromeo – Fancy Footwork (Raverton rmx) – No Label (CANADA)
***BENDUDE MIX***
Randy – Quieres Yeska – No Label
Guachin – La Danza De Los Trapos – No Label
MC Zulu – Truthfully (Frikstailers remix) – No Label
Black Mandingo – la danza del hombre churrumay (extended mix) – No Label
Sonido del Principe vs Coki & Benga – Night – No Label
timberlee – Bubble Like Soup (feat Oscar B – Soca mix) – No Label
Japanese – Cocobola (Toy Selectah remix) – No Label
Dj Black Ft. Mista Bombo – Los locos somos mas – No Label
***VALEO MIX***
Pau y Amigos – Buzzards (bootlegumachine rmx) – No Label
DJ Sheeq Beat – Marihuana – No Label
T3's – Bayna – No Label
DJ Koos & Ma Kenzy – Ethnico Style – No Label
Erick Rincon – Magdalena (exclusiva Gales) – No Label
Michael Cleis – La Mezcla – No Label
Yolanda Be Cool – Afro Nuts (Douster rmx) – No Label
Maluca – El Tigeraso (CocoTaxi rmx) – No Label
Fauna – Gauchito Gil (Ghislain Poirier rmx) – ZZK (CANADA)
SDP vs Bomba Estereo – Fuego – No Label
Matenlo – Nueva Casa – No Label
DJ Dark – Dale Perreo – No Label
Comments
comments