— Este Articulo esta en Español y Ingles- This article is in Spanish & English—
Saludos de los Dos Mundos,
Tuvimos otro programa increible esta semana! Gracias a toda la gente que nos estaba llamando para ganar passes a Funkété! Este de seguro va estar CALIENTE!!!
Sábado 25 de julio en el Basement (178 Bathurst St.) invitamos a nuestro compadre de NY, Geko Jones! Con No Lo Ves, eLman y LoveLove Project tocando lo mejor del tropi-freak! $5 antes de las 11pm, $10 después – NO se pierdan esta fiesta!
Y acuérdense mis amigos, si aun no lo han hecho, búscanos en Facebook y Myspace, (nuevo) Twitter y (nuevo) Flickr. Ahora pueden escuchar el programa repetido en www.ciut.fm.  Podomatic esta trabajando de nuevo – por favor avísame si tienen algún problema
Hasta La Próxima!
Sergio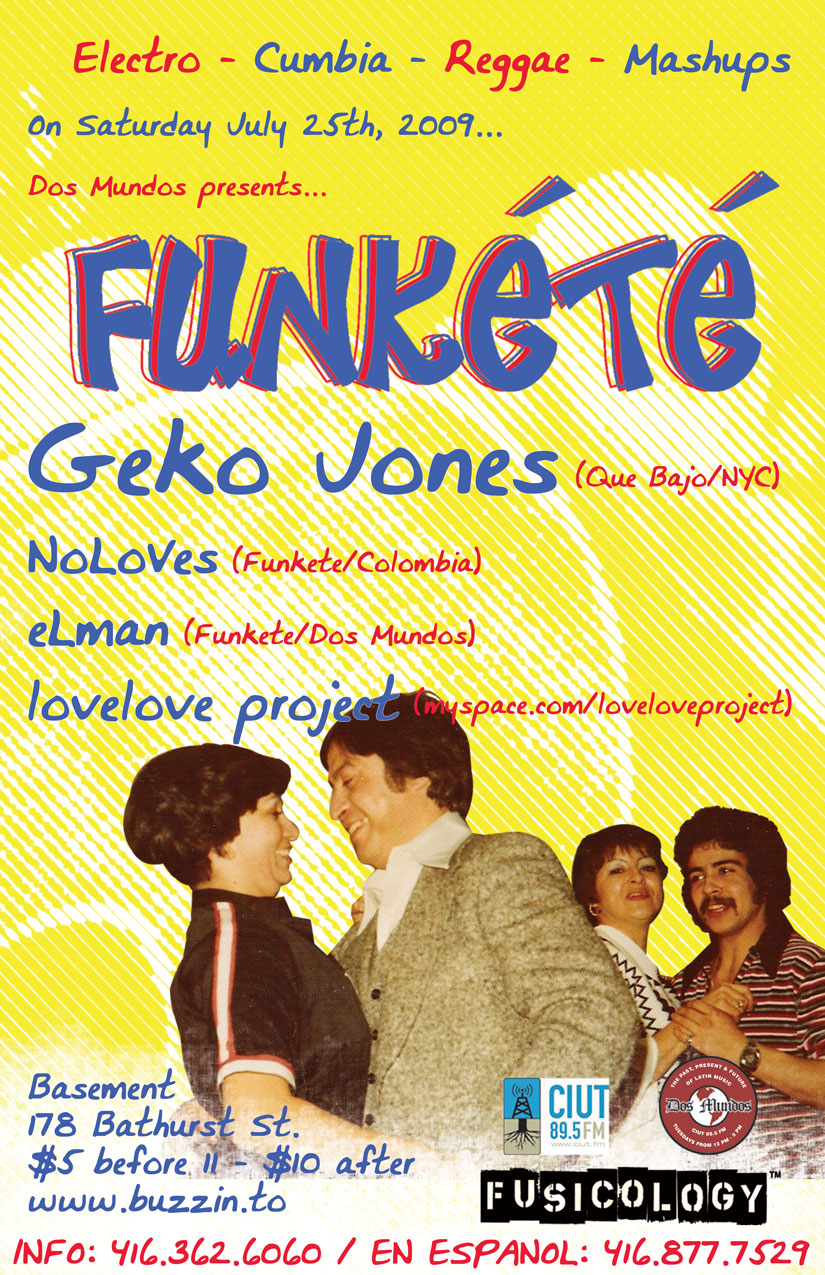 English:

We had a great show this week! Special thank you to all the people that called in trying to win passes to Funkété! This one is guaranteed to be HOT!!!
Saturday July 25th @ the Basement (178 Bathurst St.) we welcome our homeboy from NY, Geko Jones! With No Lo Ves, eLman and LoveLove Project playing the best in tropi-freak sounds! $5 before 11pm, $10 after – do NOT miss this party!
And don't forget my friends, if you haven't already – check us out on Facebook and Myspace, (new) Twitter and (new) Flickr. Oh and you can now stream repeats of the show on www.ciut.fm. Podomatic –is working again – but please message me if you have any issues.
Till next time!! Sergio

Playlist for July 21st, 2009
Toy Selectah – Hay Guey – Bersa
Villa Diamante – Chanca vs Lil' Mama – ZZK
Uproot Andy – Daft Cumbia – Ind.
Sonido del Principe – Shake It – Ind.
Feist – My Moon My Man (Raverton rmx) – No Label (CANADA)
Sonidero Nacional – Trick Me (Cumbion) – Sones del Mexside
DJ Negro – Suave – Ind.
MF vs. Oro 11 – Zapatilla de Tonto – Ind.
Psychotropical Orchestra – Pacheco – Denso (CANADA)
Lisandro Meza – Las Tapas – Discos Fuentes
Ku Bo – Momposinas – Man Recordings
Grandpamini – Pegale – Ind.
Sonido del Principe – Baranquilla – Ind.
Toy Selectah – Brooklyn Break – Ind.
DJ Joven – Illya Kuryaki vs. Blackmachine – Ind.
Novalima – Africa Lando (Boozoo Bajour rmx) – Cumbanca
Sonido Desconocido – VW Cumbia – Ind.
Sonora – Afrika Bambaata – Ind.
Liberacion – Techno Cumbia – Ind.
Sonido Martinez – Brughlin a Nueva Jork – Ind.
Huelepega Sound System – Sabor de la Cumbia – Inyrdisk (CANADA)
Collie Buddz – Come Around (kinky Cumbia rmx) – Ind.
Aniceto Molina – El Campañero (Crunk Cumbia rmx) Ind.
Sonora – La Cosita – Ind.
Kumbia Queers – El Dolor de Macaela – Horario Invertido
Alex Pasternak – Pajariton – Bersa
DJ Tito – Suave (Cumbiaton rmx) – Ind.
DJ Avatar – Cumbia Int'l Mass Cult – Ind.
Tony Camargo – El Año Viejo – Ind.
El Nosotros – Tu CuCu – Ind. (CANADA)
Pedro Infame – Fight For Your Right…(sabrosura rmx) – Ind.
Alta Joya – Sueño Latino – Ind.
Comments
comments