— Este Articulo esta en Español y Ingles- This article is in Spanish & English—

Saludos de los Dos Mundos,
Tuvimos otro tremendo programa esta semana – dándole duro en el estudio – haciendo todo posible para pasar la voz sobre la próxima fiesta Funkété! Tenemos a Uproot Andy, Toy Selectah y eLman (yo!) en la mezcla – rompiendo la pista de baile a lo cumbiambero!  Esto pasa el 5 de Junio en el Basement – 178 Bathurst St. – $5 antes de las 11pm – $10 después. Un saludo especial a toda la raza que nos llamo esta semana a ganar pases al evento – si llamaste y no ganaste…acuérdate que la próxima semana tienes otro chance para entra a esta fiesta GRATIS! También queremos saludar a nuestra familia en Pulso Beat, ellos han apoyado la causa desde el principio y ahora estamos muy orgullosos de ser parte de su tremendo sitio de web, definitivamente píllenselo! Acabo de recibir unos NUEVOS tracks en el correo, departe de uno de nuestro favorito DJ/Productores Disque DJ – esta trae candela – no se duerman!
Y acuérdense mis amigos, si aun no lo han hecho, búscanos en Facebook y Myspace, (nuevo) Twitter y (nuevo) Flickr. Ahora pueden escuchar el programa repetido en www.ciut.fm. Y también los podcasts.
Hasta La Próxima! Sergio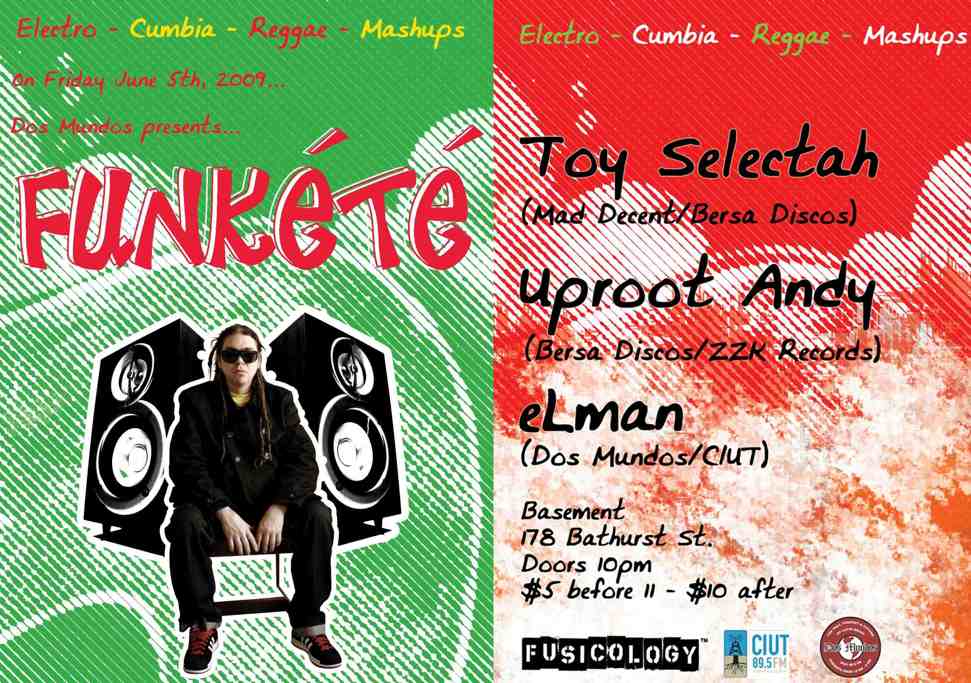 English:
We had a great show this week – grinding away in the studio – doing our best to get the word out about our next big party Funkété! We got Uproot Andy, Toy Selectah y eLman (yours truly) in the building – mixing and mashing it up Cumbia-style! It's all going down June 5th at the Basement – 178 Bathurst St. – $5 before 11pm – $10 after. Special big ups to all the peoples that called in and won passes to the jam – if you called and didn't win…tune in next week for one more chance to get into this party for FREE! We also wanna shout-out our family over at Pulso Beat, they've had our back from time and now we're collabin' on content for their amazing website, definitely check it out! I just got a few NEW tracks in the mail, courtesy of one of our new favourite DJ/Producers Disque DJ – check him out y'all – he's got some fire!
And don't forget my friends, if you haven't already – check us out on Facebook and Myspace, (new) Twitter and (new) Flickr. Oh and you can now stream repeats of the show on www.ciut.fm. And of course, the podcasts.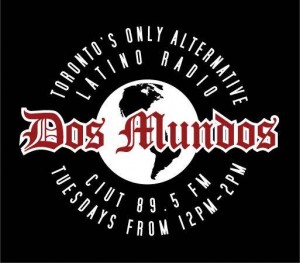 Playlist for May 26th, 2009
Dusty Olivera – Passin' Me By Cumbia – No Label
Uproot Andy – Brooklyn Cumbia – ZZK
Sonido Martinez – Los Destellos vs Skee Lo – No Label
Pato Machete – Amigos – Sones del Mexside
Toy Selectah – A Mili (reflix) – MadDecent
Sonidero Nacional – Rumba Cha-Cha – Sones del Mexside
Afrokyou – Lumaga – Ind. (CANADA)
Papi Brandao – La Murga de Panama – Soundway
Guzman y Bermudez – Gaita – Yo-Yo
Alex Pasternak – Pajariton – Bersa
Castro vs Camp Lo – Dos Pa Ti
Zurtia – Back to the Punk – Cabeza
Luisao – Bambass – Cabeza
Zurita – Informacion Tropical – Cabeza
Supa Bassie – Me Asesino – MadLion/Stereotone
Nando Boom – Enfermo de Amor – Sony
Omega y su Mambo Violento – Si No Me Amas – Montero
Renegados – Chorizon – No Label
Mambo Infinito – Coje lo Tuyo – Ind.
Toy Selectah – Hay Guey – Bersa
SDP vs Josefa Molina – Cumbia Soledad – Ind.
Feist – My Moon My Man (Raverton rmx) – MadDecent (CANADA)
Pinkertones – Colours rmx – Nacional
Psychotropical Orchestra – Me Quedo Bailando – Denso (CANADA)
Babalao Stero Club – Sacudete – Ind. (CANADA)
Rebel Rhythm – Play Your Timba pt.2 – Firegroove (CANADA)
Cache – Es Normal – Ind. (CANADA)
Matias Aguayao – Minimal (Remolon rmx) – ZZK
Comments
comments