— Este Articulo esta en Español y Ingles- This article is in Spanish & English—
Saludos de los Dos Mundos,
Tremendo show esta semana – un saludo especial a toda la gente que nos estaba llamando, pidiendo pases para el Funkété! de este Viernes. Esta es una de las fiestas mas grandes que hemos organizado y estamos muy felices de poder darle la bienvenida por primera vez a Canadá al Toy Selectah Y poder invitar a nuestro pana Uproot Andy a Toronto otra vez mas! No hay nadie mas en esta ciudad que esta haciendo lo que hacemos y nadie mas te puede traer el sonido que nosotros traemos – entonces NO se pierdan esta fiesta: Funkété Vol.3 – Viernes 5 de Junio @ the Basement, 178 Bathurst St. $5 antes de las 11pm – $10 después. Para los que aun no están convencidos, aquí les traemos unos regalos especiales! Dos discos gratis para bajar: Toy Selectah's Mex More L.P y Uproot Andy's Guacharaca Migration mixtape!
Y acuérdense mis amigos, si aun no lo han hecho, búscanos en Facebook y Myspace, (nuevo) Twitter y (nuevo) Flickr. Ahora pueden escuchar el programa repetido en www.ciut.fm. Y también los podcasts.
Hasta La Próxima! Sergio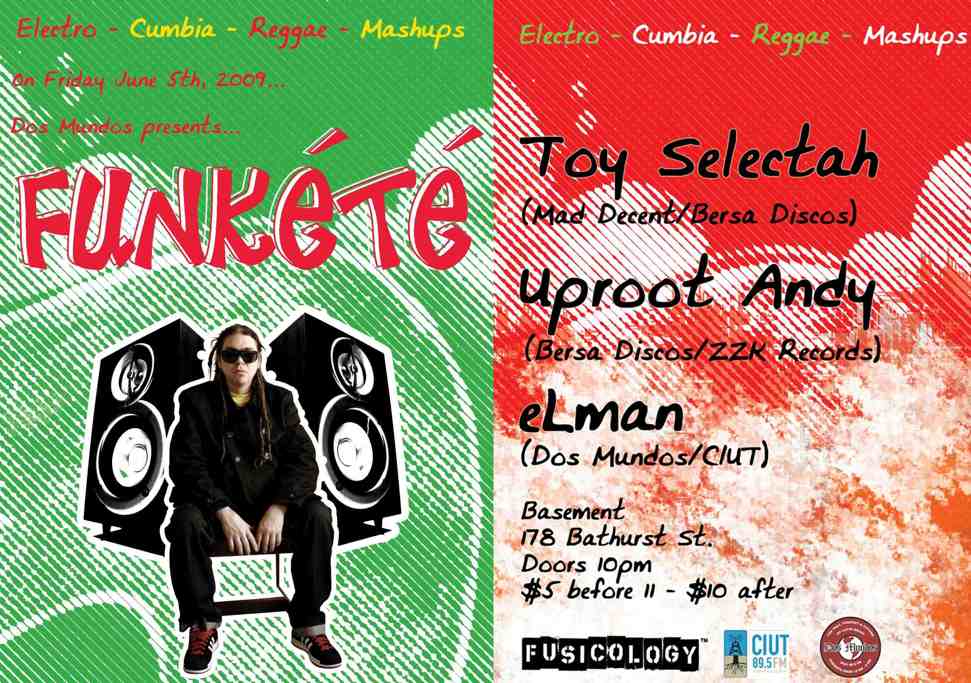 English:
Big show this week – we want to send a special shout-out to all the people that were blowing up the phone lines, trying to get at those Funkété! passes for this Friday night. This is one of the biggest parties we've put together and we're very excited to welcome  Toy Selectah to Canada for the first time AND to welcome back our homey Uproot Andy to Toronto one more time! There's no one else in Toronto doing what we do and bringing the sound that we do – so don't miss this party: Funkété Vol.3 – Friday June 5th @ the Basement, 178 Bathurst St. $5 before 11pm – $10 after. For those of you who are still not convinced, we have a special treat this week! Two FREE downloads: Toy Selectah's Mex More L.P and Uproot Andy's Guacharaca Migration mixtape!
And don't forget my friends, if you haven't already – check us out on Facebook and Myspace, (new) Twitter and (new) Flickr. Oh and you can now stream repeats of the show on www.ciut.fm. And of course, the podcasts.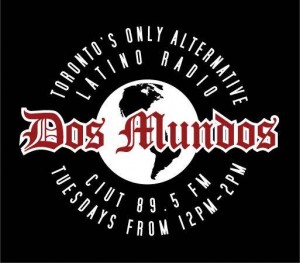 Playlist for June 2, 2009
Toy Selectah – Hay Guey – Bersa
DJ Panik – Te Ves Buena – Bersa
Disque DJ – Sex Machine-gon – No Label
Chancha Via Circuito – Lil Mama vs. Chancha – ZZK
Sonidero Nacional – Como te Voy Olvidar – Sones del Mexside
Uproot Andy – El Botellon – Bersa
Aniceto Molina – El Campañero (Crunk-Cumbia rmx) – No Label
Sonido del Principe – Cumbia Soledad – No Label
Antonio Durango – El Año Viejo (Bootleg Gum Machine rmx) – No Label
Zurita – Cumbia Suicide – Cabeza
Sonido del Principe – Pesebre – No Label
Crystal Castles – Vanished (Sonora rmx) – No Label (CANADA)
Feist – My Moon My Man (Raverton refix) – Maddecent (CANADA)
El Remolon – Zapatillas Galacticas – ZZK
El Nosotros – Tu Cu Cu – Ind. (CANADA)
Depulmones – Un Nombre Bienvenuty – Ind.
DJ Hakki – Kolbalisti – Ind.
Maluca – El Tigerazo – Maddecent
Moreno Negron – Chorizon – Ind.
Mambo Infinito – Coje lo Tuyo – Ind.
Omega y su Mambo Violento – La Estilla – Montero
DJ Dusty Olivera – Passin' Me By (Cumbia) – No Label
Frankie Cutlass – Puerto Rico – Relativity
De La Soul – Watch Out – Tommy Boy
Toy Selectah – Your Love – Maddecent
Materia Prima – No Voy en Tren (remix) – Ind.
Uproot Andy – Daft Cumbia – Ind.
Sonora – La Cosita – Ind.
David Guetta – Love is Gone (Raverton refix) – Maddecent
Chromeo – Fancy Footwork (Raverton refix) – Maddecent (CANADA)
Raverton – One Minute P'al Cumbion – Sones del Mexside
Afrokyou – Lumaga – Ind. (CANADA)
Comments
comments