— Este Articulo esta en Español y Ingles- This article is in Spanish & English—

Saludos de los Dos Mundos,
Mil disculpas por haber desaparecido en las ultimas semanas – la vida se me puso media loca. Flu, familia y obviamente planeando el proximo Funkété! SI – la proxima rumba va ser el 5 de Junio y esta va ser mil veces mas grande que las ultimas! Tenemos un nuevo local que se llama The Basement – eso queda en 178 Bathurst St. – sur de Queen St. Tambien tenemos dos GRAN DJs llegando a Toronto – el original Funkétéro Uproot Andy regresa a Toronto por la segunda vez – y por primer vez en Toronto – Toy Selectah de Monterrey, Mexico! Para los que se acuerdan del Toy de su dias con Control Machete – el man ha estado super ocupado con su propio sello, produciendo y remezclando con algunos de los nombres mas grandes del mundo Latino y ahora esta preparando a lanzar nuevo material tipo Cumbiambero con la gente de Bersa Discos y de parte del sello de Diplo Mad Decent! SI SI SI – Candela pura mi gente! Esta no se la pueden perder! Chequen el flyer para mas detalles….
Y acabo de subir los ultimos 3 programas de Dos Mundos en el link del podcast – si quieren el playlist, conectanse en el grupo de Facebook!
Y acuérdense mis amigos, si aun no lo han hecho, búscanos en Facebook y Myspace, (nuevo) Twitter y (nuevo) Flickr. Ahora pueden escuchar el programa repetido en www.ciut.fm. Y también los podcasts.
Hasta La Próxima! Sergio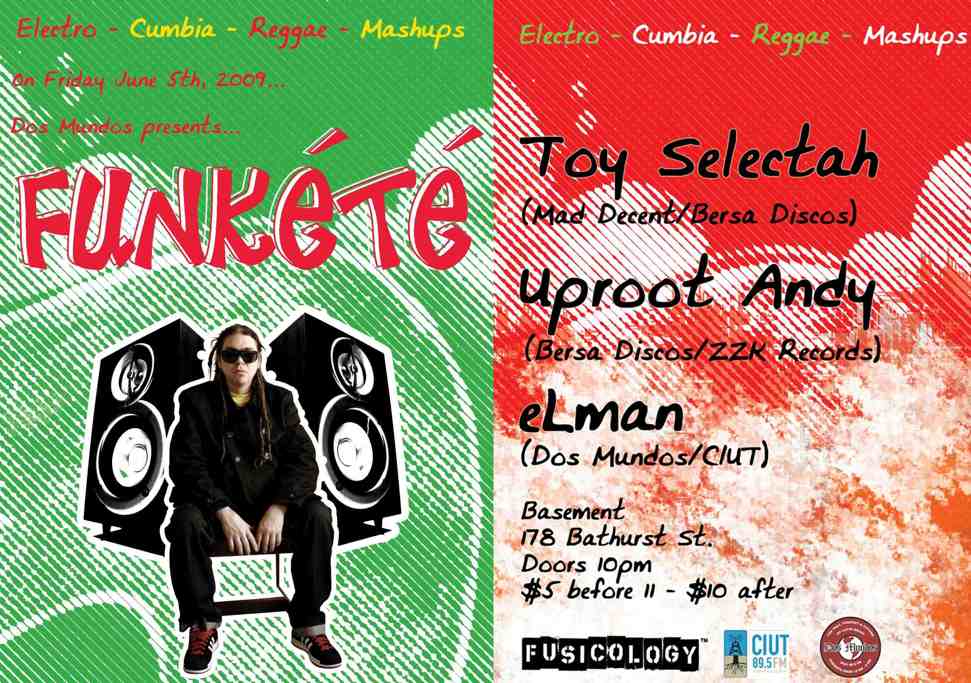 English:
My apologies for being so out-of-touch for the past few weeks – things have been crazy on this end. Flu, family and of course planning the next Funkété! That's right, the next installment is right around the corner (June 5th) and this one is going to be bigger than ever! We've got a brand new venue to rock, Cumbia-style, it's called The Basement and it's at 178 Bathurst St. just south of Queen St. We also have two BIG DJs coming up to Toronto to shake up that dancefloor and get your booties poppin' – the original Funkétéro Uproot Andy is coming back for his second appearance in TO and for the first time ever – direct from Monterrey, Mexico – Toy Selectah is going to be in the building! For those that remember Toy from his Control Machete days – the man has been busy building his own label, remixing and producing for some of the top names in the Latin Urban/Pop game and now he's getting ready to release some brand new material on both Bersa Discos AND Diplo's Mad Decent label! What!?! Candela pura papa!!!! Check the flyer for details…
PS – I just uploaded the past 3 shows up on the podcast link – so make sure to check those out and if you want the playlists – join the facebook group!
And don't forget my friends, if you haven't already – check us out on Facebook and Myspace, (new) Twitter and (new) Flickr. Oh and you can now stream repeats of the show on www.ciut.fm. And of course, the podcasts.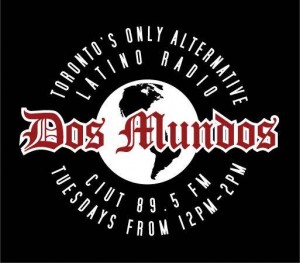 Playlist for May 19th, 2009
Fantasma – Ghost Town Cumbia – Ind.
Grupo Fantasma – Levantate – Aire y Sol
King Chango – Finalmente – Luaka Bop
Manu Chao – Lagrimas de Oro – EMI
Psychotropical Orchestra – Cumbia de Dolor – Denso (CANADA)
Very Be Careful – El Puma – Downtown Pijao
Kumbia Queers – Mis Botas – Horario Invertido
Cafe Fuego – Fuego – Ind. (CANADA)
Samba Squad – E Pra Valer – Ind. (CANADA)
Bossacucanova – Samba da Minha Terra – Six Degrees
Samba Squad – Maracatu Funk – Ind. (CANADA)
Gang Do Tagarela – Melo de Tagarela – Strut
Banda Black Rio – Maria Fumaca – Six Degrees
Marcos Valle – Mentira – Sony
Tim Maia – Bata Frita, O Ladrao de Bicicleta – Polydor
Alex Pasternak – Pajariton – Bersa
Uproot Andy – Pescador – Bersa
Molotov – Baile de los Putos (Toy Selectah rmx) – Mad Decent
SDP vs Tini Dread – Return of the Mack (Cumbia remix) – No Label
El Remolon – Calle 13 vs Modselektor – ZZK
El Nosotros – Tu Cu Cu – Ind. (CANADA)
Negromoreno – Julito Toquecito – Cabeza
Tempo – Donde Estan Las Girlas – Sony
El G – Chufi Chufi – No Label
Archangel – Siente el Mambo – Machete
Mambo Infinito feat. La Mayor – Coje Lo Tuyo – Ind.
Omega y su Mambo Violento – Solo Tu – Montero
Tego Calderon – Ni Fu Ni Fa – White Lion
Cache – El Sonero Llego – Ind. (CANADA)
Fruko y sus Tesos – Oriza – Discos Fuentes
Comments
comments