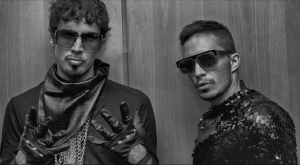 Después de 10 años de su separación para continuar sus carreras en forma solista, Illya Kuryaki and the Valderramas regresan con su séptimo álbum de estudio llamado Chances.
Dante Spinetta y Emmanuel Horvilleur, volvieron a juntarse por el gusto, las ganas y el desafío de afrontar el volver a hacer la música que los caracteriza: su funk mezclado con rock y hip-hop que los hace los principales exponentes de éste género urbano y alternativo en su natal Buenos Aires, Argentina.
Para éste disco, trabajaron con el productor Rafa Arcaute (Calle 13, Luis Alberto Spinetta) para co-producir las canciones "Chica", "Funky Futurista", "Aguila Amarilla" y "Monta el Trueno" en Buenos Aires, y Rafael Sardina (Stevie Wonder, Beyoncé) para mezclar Chances en la ciudad de Los Ángeles.
El disco es muy diverso, cómo siempre, toda música de éste duo de Argentina es súper bailable gracias a los arreglos musicales tirandole a los 80's, lo electrónico y el reggae, pero siempre manteniendo el rock y el hip-hop a flote, además de la colaboración de Molotov en su canción "Madafaka". La neta su disco está bien chido, y es una súper transformación si piensas que son los mismos cuates que cantaban "Abarajame" y "Coolo" hace años y sus videos los pasaban a cada rato en MTV. (En mi caso, siempre lo pasaban a la hora de la comida después de llegar de la escuela, mientras todos comiamos en familia. ¿Por qué? Quién sabe, pero me traen recuerdos chidos de cuando vivía en México)
Sus mejores canciones son "Funky Futurista", "El Encuentro", "Soy Música" y "Monta El Trueno". Con Chances, Illya Kuryaki lidera las nominaciones de los Latin Grammy de éste año en las categorías Mejor Interpretación Urbana por "Amor", Mejor Canción Alternativa por " Monta el Trueno", Mejor Álbum de Música Alternativa, Mejor Canción Urbana y Mejor Video Musical Versión Corta por "Ula Ula".
Además de todo el éxito que el dúo ha obtenido gracias a su más reciente disco, hace unas semanas grabaron una canción con Earth Wind & Fire llamada "Sign On", puedes escuchar la canción aquí!:
Comments
comments