I arrange my interview with the young artist known as BrownStudy at a local church. This environment would not only place Frankie in his element, enabling him to be himself, but also give me the opportunity to truly witness the artist as an individual and as the talent just by simply observing. From the moment we walk through the church doors he is recognized and acknowledged by other local artists that are performing that evening, including several vocalists and musicians. The smile on Frankie's face at that exact moment says it all; something like thank you and your welcome all at the same time. Like rainfall and sunshine all at the same time.
Francisco Luis Rosado, known to everyone as Frankie, was born in Caguas, Puerto Rico in 1986. By the age of six, Frankie and his parents had made moves across Texas and Florida. Settling in Orlando came in 1999 which is where the birth of BrownStudy would occur in the following years. One of his earliest and most significant moments of appreciation came at the age of twelve while attending a youth camp performance that left the camper head over heels in love with music and more importantly, with God. When I ask him about his relationship with God he replies, "Jesus is my Homeboy!" and innocently, yet convincingly pronounces again, "Jesus is my Homeboy!".
With this passion for the gospel along with his talent as a vocalist, Frankie exposed himself to several musical projects in his church as well as to his personal circle of friends, which all supported his artistic approach as a messenger. Within these collaborations he found inspiration and the strength to define himself as an artist, hence the birth of BrownStudy. He reminds me throughout our entire interview that his most important goal is to have people see him as a relatable individual, and there is no questioning his sincerity. It escapes his every pore and you feel it in every hug and handshake; you know it exists even within a simple glance or in the complexity of his verse.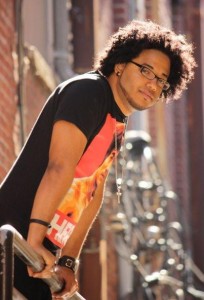 Describing his style as unique would not do him justice, he would rather be considered common and classic, like a guitar that offers you rawness and realness. You can call him a rapper, a poet, an mc, or a singer because he is all of the above and then some. Do not sleep on him either, his eagerness to drop a free verse, as well as put a smile on your face can come as quick as the drop of a dime. He gives thanks to the microphone: for being his friend, for allowing him to express himself, for being a great listener, for not judging and merely accepting. Frankie puts it best when he says, "The mic takes what you have to offer and amplifies it. So Thank You Mic!". His desire to bring you to a place of deep thought, which is exactly what the name BrownStudy suggests, is what drives him. He is a Christian man that embraces his role and seeks to deliver truth and understanding in every rhyme.
I almost refuse to place him in a particular genre of music; although his history includes hiphop/reggaeton/soul/funk/jazz/rock/and worship. l predict he will stretch his words across our minds on any level he chooses. For as much as he insists that Frankie and BrownStudy are two separate entities, l know that they are both complimentary components creating this one beautiful being.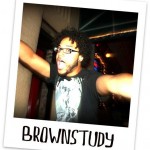 I would encourage anyone to check out a show by the "little preacher" (nickname growing up) who's not so little anymore. For the past two years his focus has been primarily on being the front man of "I AM THE HOST !". This live band project always rocks the house and delivers outstanding performances. It consists of 6 musicians which range from vocalist, guitarist, and pianist to drummer, bass player and saxophonist. Here in Orlando the group has participated in opening, ongoing and solo events in over twenty venues. Whether it be at BlowSundays, The Social, or at Body of One Ministries, you can find the sextet jamming out on any given night at any given spot.
Currently, BrownStudy is dedicating his time to his solo album said to be released in the summer of 2009. I can only imagine that his bright beams of light, disguised as words, will shine through and be heard in every track like soft rain drops that cleanse our soul.
Your author
Sara Aviles
Comments
comments