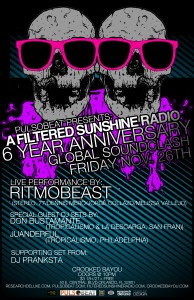 PulsoBeat invites you to Filtered Sunshine Radio(FSR) 6 year anniversary global soundclash on Friday Nov. 26th (the day after Thanksgiving) at Crooked Bayou located in the heart of Downtown Orlando, FL. This event will have live performances by RITMOBEAST:  DJ Stereo. 77, Dennis Mero and many more acts. Don't miss the special guest DJ sets by Don Bustamante with his two San Francisco residencies: Tropicana & La Descarga and from Philly, Juanderful with his Tropical Bass hitting night, Tropicalismo, setting the tone by bringing top notch global-minded DJs together. Plus, a supporting set to not be overlooked during the Filtered Sunshine festivities by DJ Pranksta.
Filtered Sunshine Radio first hit the airwaves on November 30th, 2004 via the Central Florida based radio station WPRK 91.5 FM. On a weekly basi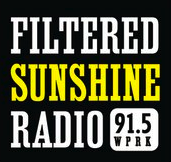 s, FSR guides the listener through the most eclectic selection of sounds to be heard on one radio show! From rare grooves to future frequencies, and everything in between! Plus, a weekly selection of live in studio performances, exclusive DJ mixes from all parts of the globe and giveaways! FSR airs every Monday evening from 11pm-1am EST.
If your looking for dynamic sets and incredible world music, look no further than Filtered Sunshine Radio's 6 year anniversary mashup party on Nov. 26th, Friday night. After a nice night with the family getting your fill of Thanksgiving goodness, come on out to Crooked Bayou and feel the cultural heat that will make you dance and sweat all night. A blowout party sure to leave its mark as one of the best this year!
Comments
comments