[youtube]http://www.youtube.com/watch?v=8UGkUasX4V4[/youtube]You don't know Art…
If you don't know
Hip-Hop and Funk!
On May 20th, Experience…
ArtOfficial LIVE @ the Performing Arts eXchange (PAX)!!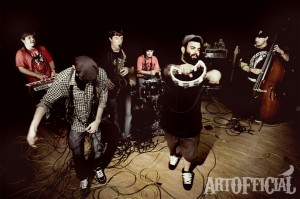 You may be asking yourself, "What does a live band with two emcees sound like?" They are a living, breathing entity out of Miami, Florida that can be described as universal. Speaking a language that is both familiar and unknown, they are ArtOfficial and their purpose is to make you remember the past and embrace the future. So make sure to catch them in action at PAX!
"ArtOfficial have proven themselves as creative forces to be reckoned with. Their delicately weaved combination of hip-hop, jazz and indie beats represent an exquisitely refined Miami sound." – Miami.com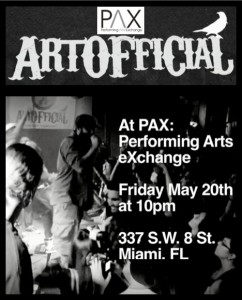 PAX = A Cultural Arts Experience
Friday May 20th @ 10pm
337 S.W. 8 St.
Miami, FL
We Love Underground Music!
Say you'll attend by clicking HERE!
FOLLOW The Performing Arts eXchange (PAX) on:
Comments
comments