Saludos de los Dos Mundos! Que lo que peoples? Jose el Intern stepped up to the plate once again, rocking the freaky-latino beats and even interviewing the incredibly talented Anita Tijoux!In this edition of the Dos Mundos Radio Newsletter, we invite you to come celebrate Naco Gallery's ONE YEAR aniversario, Huelepega plays the Rivoli, our boys Simmer Down for their 1 year aniversario and a special treat from our homey el DISQUE DJ!
I (NACO) YOU, berry mucho!
Naco Gallery is definitely one of our favourite spots in the city. The folks that run it are super cool and super sharp. The art is always on point. The food and drink is an authentic slice of Mexcio. And they know how to throw a party! Tonight we celebrate the one year anniversary of this amazing place. So come down, dance with us, drink with us and let's celebrate this fantastic slice of Toronto's art scene together!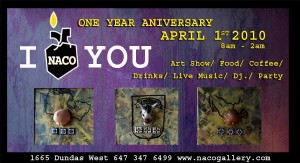 Naco Gallery – 1665 Dundas St. West
Huelepega meets Microbunny: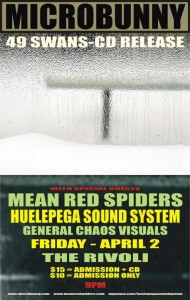 Huelepega is a few men short this long weekend. But not the extra freaky members, so don't worry we do intend to throw down in style. We're very proud to be a part of a great lineup of bands celebrating the album release of Toronto's own experimental electronic outfit
Microbunny.
So come down and check out a very unique electronics only version of Huelepega. Info:
Toronto CD Release Party:
Friday, April 2nd, 2010 @ The Rivoli
Microbunny w/ Mean Red Spiders and Huelepega Sound Sound System
DJ David Dacks + General Chaos Visuals
$10 or $15 w/CD
9PM
Simmer Down One Year Anniversary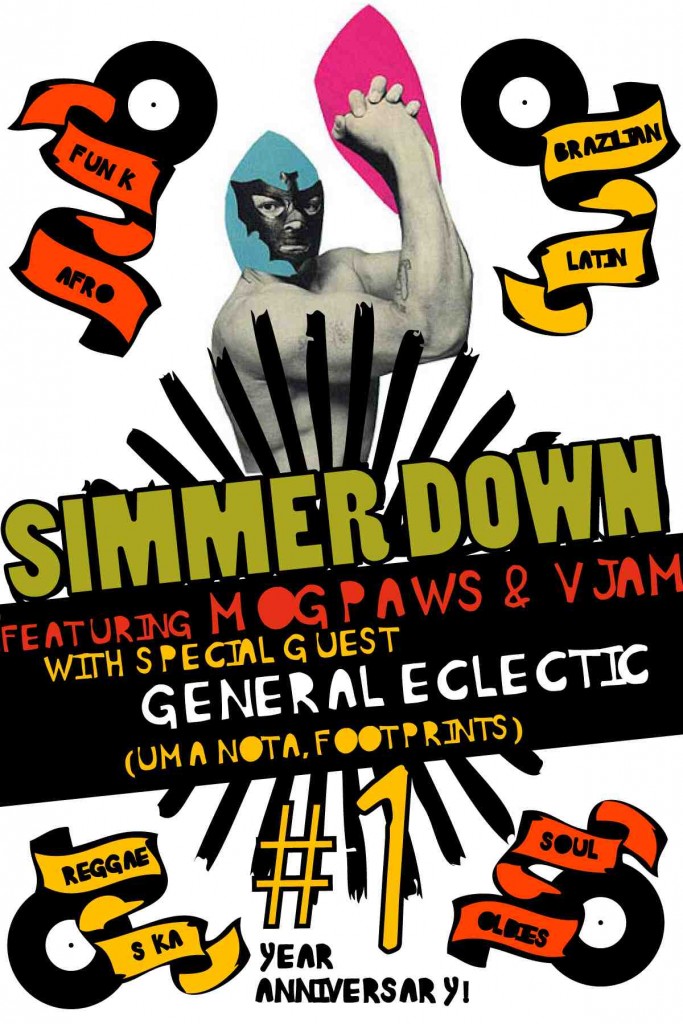 I guess all the best hook-ups happen in early April. Well after you come check Huelepega tweak their doombia knobs, we highly recommend you hop over to Kensington Market and help celebrate our favourite man-man union since Siegfried and Roy. I'm obviously talking about our hermanos V-Jam and Mogpaws, better known as the Simmer Down crew.
They too are celebrating their one year tomorrow night
, with special guest DJ General Eclectic (nice!), so let's keep this weekend full of dancefloor business and plan to meet there! Info:
Simmer Down: 1 Year at Augusta House
w/ Mogpaws & VJAM
Special Guest: GENERAL ECLECTIC
Friday, April 2, 2010 at 9:35pm
152a Augusta Ave, Kensington Market
From: Soul, Funk & Hip Hop
To: Island Sounds (reggae, ska, calypso), Afrobeat & Tropical Mayhem
$5 cover
Free mixed cds
Video Projections
DRINK SPECIALS before 11pm
DISQUE DEEEEE-JAAAAAYYYY!!!!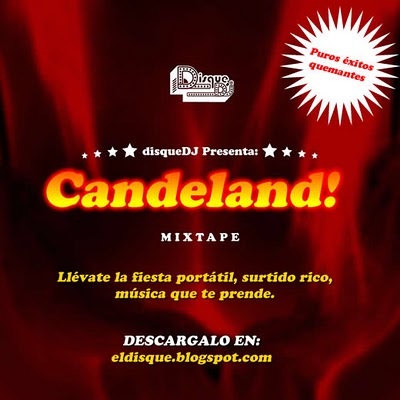 Uno de nuestro favorito DJ/producers is this dude right here from Mexcio,
DISQUE DJ
! An amazing artist and a really great friend of the show. As always, the brother shows his love through music and sent you, the Dos Mundos familia, a nice mixtape for you to enjoy on your long weekend! Make your culo move in exotic ways by
clicking here.
Hasta La Next-One
Sergio
Playlist for March 30, 2010 (selected by Jose el Interno)
El Remolón – Salchicha Chicha
Caballo and TMFK – Flame & CO
orion – Ritmo de Juventud (Orion Edit)
Uproot Andy – 05 Vale La Pena (Uproot Andy RMX)
buzzards_bootlegumachine_rmx.mp3
Beastie Boys – 01 – Gotta Fight for your Rights (Pedro Infame Sabrosura Edit)
banda el mexicano – no bailes de caballito
Banda Zeta – La Niña Fresa (Remix)
Lagartijeando – Sorata.Tradicional Boliviano
Sonora – King Of The Bongo
Julieta Venegas feat Anita Tijoux and Sonidero Nacional – Eres para mi Sonidero Nacional Cumbow Remix
Anita Tijoux – 03 – 1977
Control Machete – El Genio del Dub (con Blanquito Man)
Lagartijeando – Holidays K
::::interview:::::;
Tego Calderon – Cosa Buena
Villa Diamante – Daleduro vs Calle 13
Vampire Weekend – Cousinz ( Toy Selectah Mex-More Remix )
Chernobyl feat MC Gi&Cabal – Empina a Pipa ( Toy Selectah Guarachero Cosmico Remix )
funkkkknacional – mongol
Database ft. Bonde do Role – Miami (Baile Funk Mix)
Watagatapitusberry (Toy Selectah MexMore Remix)
Mexclass! – Technopegao,
Acorde On – Techno cumbia funky,
Alex Cuba – Que Pasa Lola,
Lido Pimienta – Aqui Conmigo,
Los Fabulosos Cadillacs – Siguiendo La Luna
SDP VS DJ DUS – la cumbia edit
Comments
comments