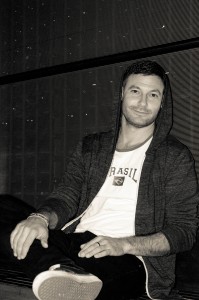 San Francisco, CA Sept 2 2010
Interview by: Jorge Bustamante
Photography by: Stephanie Catherine Moore
Location: Puerto Alegre
Name: DJ Sabo
Latest Gigs: Bembe Bar, Que Bajo?! ,NY, Mo "Glo" Radio Show Live, NYC, Mi Casa Su Casa Playa Del Carmen, MX

Recently I met up with Will Sabo Sabatini, otherwise known as DJ SABO, while he was in San Francisco doing shows with Afrolicious ,and the Braza crew. We sat down on a warm San Francisco afternoon, with a strong pitcher of Margaritas, to talk about Latin America, his label Solselectas.com and Nu Cumbia.
JB: What style of music do you like to spin and produce?
Everything, it all depends on the mood and the moment. I started as a Househead back in the rave days. I was always in the House Room. Deep Soulful House was the root, but then I was always into Hip Hop even before I was into House, so kind of a mix. It's funny, I really gravitate towards music that's not in English for some reason. I find more rhythm in a voice when I can't really understand what they are saying. Although now that I speak Spanish it's even better that
I understand what the songs mean. I try to produce music that sounds like the music I like and ,since I like almost everything, I'm trying to make it all. I'd like to be able to make more disco; like new sort of cosmic disco. I really want to make some songs like that.
JB: You are well traveled in Latin America, I saw Mexico, Colombia, Dominican Republic, Puerto Rico.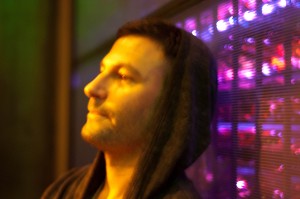 Are there any particular artists from Latin America that you see as up and coming ?
There is a Dominican kid called Munchi, who lives in Rotterdam, but he's Dominican, and he's making crazy music. A lot of bands like Quantic and his Combo Bårbaro, who now lives in Cali, Colombia; his band is incredible . He's got like three new albums coming out. He made a Cumbia record..crazy shit! It's so good and it's all Cumbia, no words, just instrumentals. It's insane…so that's coming soon and there are genres like Mexican Tribal, that 's getting really big
right now.
JB: Speaking of Latin America, what are some of the cities that you would love to tour, but still haven't visited?
Rio, obviously. Definitely Mexico City, Monterey, Sao Paolo, Bogota, Medellin, San Jose , Costa Rica, Panama City……. a lot of big towns..wherever there's a scene Lima ,Quito…Buenos Aires you name it. If there's a party I want to play it.
JB: You've been producing some stuff for Bersa Discos. What do you think of Nu Cumbia and did it take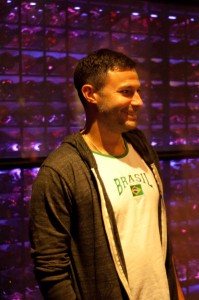 you by surprise?
When I first started hearing about it..it was awesome because it was like another form of latin music mixed with electronic that I hadn't known too much about, and it was slower, it wasn't House tempo. Some of it is really slow and dubbed out, 75 -80 BPM, it's kind of trippy . To me I like the production style, and it also has a very cheap, gritty sound to it; very homemade sound, but really interesting the way they put in samples and mix it with other genres, kind of matching it up. Hearing that stuff immediately gave me ideas, I could mix this with this, and let me try this version.
JB: Talk to me about your record label Sol Selectas and your latest release Sol Selectas 11.Joyce Muniz & Shanti Roots "Cumbia Nightlife"
Sol Selectas pretty much started because I just wanted to make some remixes and mashups. It was 2004/05 and back then vinyl was still pretty prevalent, as a DJ you wanted to have some white labels, it still had some prestige and some mystery about it, that kind of started it ; I wanted to make some white labels and stamp my logo on it and make it real exclusive. Kept going with it and kept making music. After 7-8 releases with vinyl only, the vinyl industry was dying big time, so my goal was to do 10 vinyl records, a nice even number and then from there try to do digital. So that's where it's going now with digital. This first digital release, "Cumbia Nightlife", is from a friend of mine Joyce Muniz, who is Brazilian, but lives in Vienna, an excellent DJ and also an MC. I saw her in May and she played me these tracks, these Cumbia House rhythms, and I told her I want to put these out immediately and she's like "yeah let's do it"..so that's how it came out.
3 strong Margaritas and the food arrives…Tamales, Enchiladas, a Milanesa and more Margaritas !
JB: So with the experiences that you have had in Latin America, the places that you've played, how do they differ from playing in cities in Europe or the US.?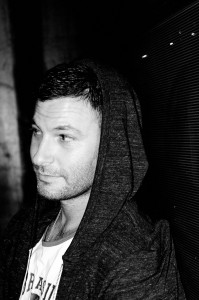 It's funny because in America you can play really global stuff and it's fine. You can play old school Cumbias, you can play old school Salsa, but when I play in Europe, they don't want to hear any of that…they want to hear American music. It's weird; especially with House music, I play a lot of Latin, Brazilian type House and it doesn't really work in Spain. In Spain they want to hear English vocals. Same thing in Brazil they were not feeling the Latin anything, they did not want to hear anything in Spanish. They wanted to hear English or Portuguese vocals only. I feel in Europe, Spain specifically, and most of the places I've played in Latin America; they'll go all night, they don't give a fuck…they're ready to party till Monday… and it's Friday. In America, they say it's 4am let's call it a night. They're just ready to go, it's kind of crazy…the last time I played in Spain; I played a Saturday night and a Sunday night and both times we went till 6am and then partied until noon the next day.
JB: So when the lights go down and the spotlight is off ,what is your favorite type of
music to listen to and who are your favorite DJs.?
Definitely Reggae, Dub, oldschool Roots, Dancehall, that's what I wind down to, or even some Bossa Nova or some Jazz,or Soul. Favorite DJS: Louie Vega, Osunlade, Bodhisattva, Ian Friday, Joe Claussell, Spinna, Rich Medina, Uproot Andy, Geko[Jones], Nicodemus ….I can go on for days.
JB: What studio tools or software are you using to produce music ?
Now, I pretty much use Ableton Live and Logic predominantly. I don't really use Reason that much anymore, but I really like Ableton and Logic for various reasons.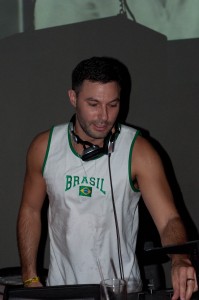 JB: How has social media and internet promotion changed your experience as a DJ or individual making a living off of the music industry ?
It's changed a lot, I would say it's no longer the old model of make music and let it speak for itself. Unfortunately that's old hat…I know so many people that make incredible music, but they don't promote it and they are not online, they're not active about it and they just don't get discovered. You really have to…it suck's….but you have to promote the fuck out of yourself….you have to give away a lot of music. That's what I've been doing these past two years…just do remixes and give them out. Tell everybody here take it, share it , blog it…Blogs are huge, all these other guys I know have been killing it on blogs forever.
At this point in the interview my questions were exhausted and so was the pitcher of Margaritas. I told Sabo the interview was done and he looked at me and said "I can't believe you didn't ask me about Moombahton" Clearly, I could see he was excited about a music genre that I knew next to nothing about. He continued letting me know that Moombahton was coined by Dave Nada when, out of necessity at a party, he slowed down Dutch House to the speed of Reggaeton, and Moombahton was born. Sabo liked it so much that he started making Moombahton tracks. Take a
listen to No Pare Moombahton and Hey Hey Moombahton
Free DJ Sabo Mixes
http://solselectas.com/store_mp3.php
http://www.thefader.com/2009/08/12/ghetto-palms-66-dj-sabo-cumbia-exclusives
Free DJ Sabo mp3 "Kuff Cumbia" courtesy of XLR8R
http://www.xlr8r.com/mp3/2009/10/kuff-kumbia
Comments
comments