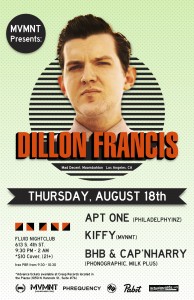 Date: August 18th, 2011
Venue: Fluid Nightclub >>> (Google Map: http://bit.ly/pVDpHw)
613 South 4th Street
Philadelphia, PA 19147
Doors: 9:30pm
Cover: $10 (21+)
**free PBR from 9:30 – 10:30 pm**
DILLON FRANCIS
[Mad Decent / Play Me Records]
Los Angeles, CA
–
Almost out of nowhere, Los Angeles' Dillon Francis has broken from the throng of young electronic music dj/producers. With a stream of world-class remixes and releases, Dillon has caught the attention of some of the top players in club land, including Steve Aoki, Diplo, Will I. Am, Drop The Lime, Sinden, and Tittsworth to name some. In less than a year his blistering productions have been heavily supported by Major Lazer, who opened their show with "Westside!," a Dutch House-flavored monster that was consistently rinsed by top djs on both sides of the pond, including Sinden and Steve Aoki. The tune has finally received a proper release on Diplo's Mad Decent label, where Dillon released his "Masta Blasta" EP as well..
"Masta Blasta" starts off the EP at 108 BPM, perfecting the new Moombahton sound that has infiltrated American dance clubs. Dillon squeezes in everything great about the genre: Dutch stabs, smooth bass, and a dozen drops, making it a flagship track for the movement. "Westside!", a co-production with DJ Ammo, speeds things up with huge synth stabs and a build that drives crowds into a frenzy. On "Que Que" Dillon teams up with label head Diplo and frequent Mad Decent collaborator Maluca, slowing things back down to Moombahton Levels while Maluca drops a mean latin hook. The last track on the EP, "Brazzers Theme," features the originator of Moombahton, Dave Nada. "Brazzers" starts of with a sultry beat until hitting the drop where a single siren gets pitched to the stratosphere.
From his first dubstep release on Play Me Records, the heavy "Take Me High" peaked at No. 13 on the Beatport dubstep chart and was played in full by Rusko in every one of his sets for his current OMG tour. In the coming months, Dillon will have releases on Mad Decent, Dim Mak, Top Billin', as well as Plant Music, where he will be releasing his next club EP. At ease behind the turntables and in the studio, in the electro world and in dubstep, Dillon is what you would call an open-format electronic dj who sees no delineation between making music and playing it. He has gotten huge support from the most important dance music blogs (Dim Mak, Mad Decent, Discobelle, Gotta Dance Dirty) ever since releasing his first bootlegs last year, and 2011 promises to be Dillon's breakout year.
—
OPENING SUPPORT:
APT ONE (Philadelphyinz, Young Robots)
http://philadelphyinz.com/​djaptone/
http://soundcloud.com/djap​tone
KIFFY (MVMNT)
http://facebook.com/TheRea​lKiffy
http://soundcloud.com/kiff​y
BHB & CAPN'HARRY (Phonographic, MilkPlus, Blood Bath & Beyond)
http://soundcloud.com/capn​harry
http://twitter.com/capnhar​ry
http://soundcloud.com/i-am​-bhb
http://twitter.com/IAMBHB
Comments
comments