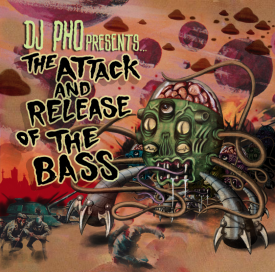 Reciba "The Attack And Release Of The Bass" EP gratuitamente AQUI!
Ataque:
Parte inicial de un sonido o una frase.
Liberación:
Parte final de un sonido o una frase.
En el EP Attack And Release Of The Bass (AAROTB) del productor y tornamesista (Campeón Red Bull Thre3style Colombia 2011 & 2012) colombiano DJ PHO, se puede sentir el eclecticismo de varios ritmos contemporáneos, dirigidos por un elemento electrónico, el Wobble Bass o Bajo Tambaleante . Este elemento tan utilizado en los últimos tiempos dentro de los hemisferios de la música electrónica, es manipulado para ser la piedra angular de un proyecto musical que posee los matices tropicales del Moombahton, las características europeas del Dubstep, la frescura del Trap, complementados junto a ritmos como el Breakbeat y el Hip Hop.
La versatilidad de las colaboraciones de este EP le dan un aporte único a este trabajo musical. En la canción "Rabia Callada" en voz y letra de la cantante colombiana de R&B y Soul, Lianna, brinda un contraste sonoro con respecto a la potencia y velocidad del beat. Mientras tanto, el MC Xarxuplex del representativo grupo de Hip Hop Bogotano "Delirium Tremenz" junto al MC Pet Fella del reconocido grupo de Jazz y Hip Hop "Los Petite Fellas" cierran este EP con una colaboración lirica en el tema "Gato Negro"
El AAROTB sólo tiene la intención de ser un experimento sin pretensiones, que lo único que espera es ser tolerado y escuchado.
Prepárese para este ataque de frecuencias bajas y liberaciones rítmicas; para recibir el EP gratuitamente solo tienes que suscribirte a nuestro boletin mensual para recibir el enlace que contiene el EP. ¡Hay un límite de 200 descargas gratis, así que aproveche y obtenga su copia ya!
Reciba "The Attack And Release Of The Bass" EP gratuitamente AQUI!
Aqui un pequeño adelanto del EP:
Comments
comments