— Este Articulo esta en Español y Ingles- This article is in Spanish & English—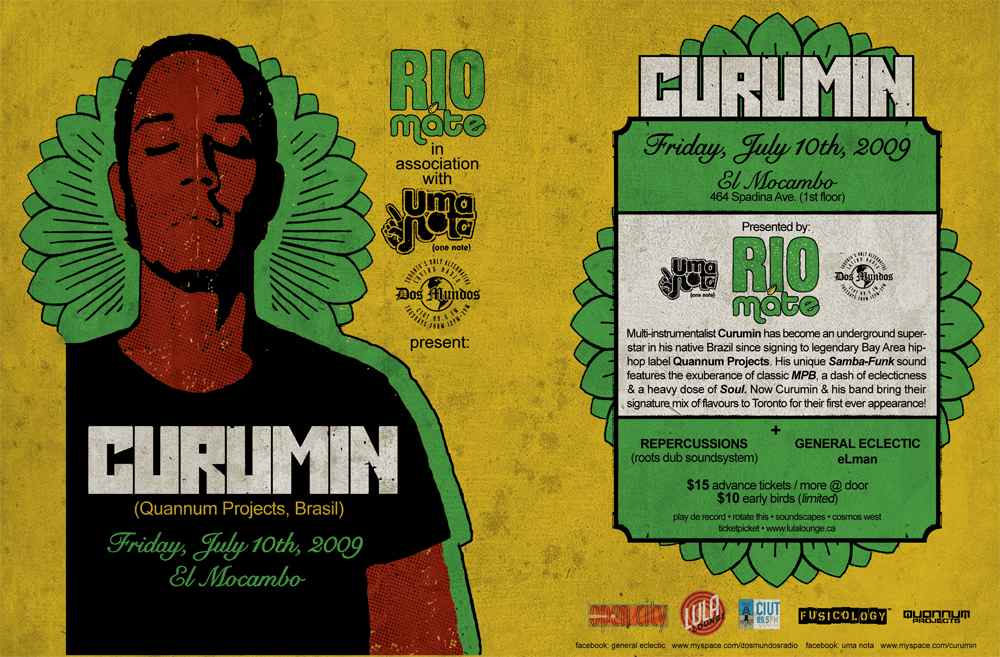 Saludos de los Dos Mundos,
El programa de esta semana fue otro éxito – gracias a toda la gente que nos acompañaron con su energía positiva. Tocamos mucha nueva música, mas unas selecciones Brasileras en honor de la próxima fiesta el 10 de Julio – Curumin en vivo en El Mocambo! Este artista de Quannum Projects trae su grupo entero a Canadá por primera vez – entonces no se pierdan esta fiesta! Tickets están en $15 en Soundscapes, Play De Record, Rotate This y Cosomos West. También tenemos pocos tickets a $10 – pero si quieren esos – me tienen que contactar personalmente.
Y acuérdense mis amigos, si aun no lo han hecho, búscanos en Facebook y Myspace, (nuevo) Twitter y (nuevo) Flickr. Ahora pueden escuchar el programa repetido en www.ciut.fm. Y también los podcasts. Hasta que arreglemos nuestro problema con podomatic – pueden bajar un mp3 del programa entero, aquí.
Hasta La Próxima! Sergio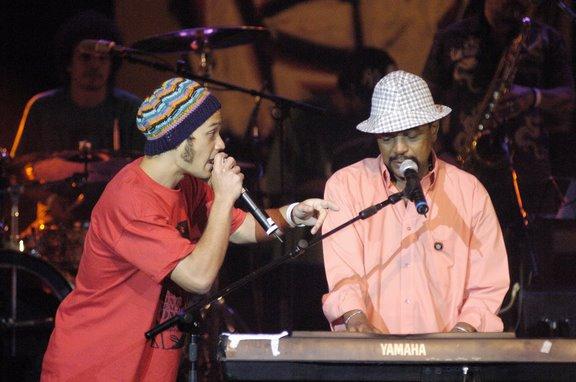 English:
We had a great show this week – thanks to everyone that tuned in and kept the positive energy flowing. We played a lot of new music, plus some choice selections from our Brazilian crates – all in honour of the next big party coming up on July 10th – Curumin live at El Mocambo! This Quannum Projects recording artist is packing up his big live band and bringing them all up to Canada for the first time – so don't miss this amazing party! Tickets are $15 advanced at Soundscapes, Play De Record, Rotate This and Cosmos West. We also have a limited amount of early bird $10 tickets – if you're interested – let me know.
And don't forget my friends, if you haven't already – check us out on Facebook and Myspace, (new) Twitter and (new) Flickr. Oh and you can now stream repeats of the show on www.ciut.fm. And of course, the podcasts. Until we sort out our issue with podomatic – you can download a full mp3 of the show here.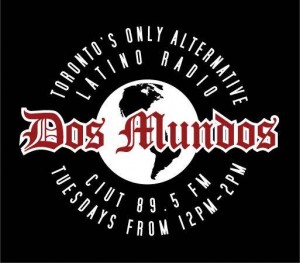 Playlist for June 30th, 2009
Andres Landeros – Virgen de la Candelaria – Discos Fuentes
Los Cumbiamberos de Pacheco – Santo Domingo – World Circuit
Alejo Duran – Joselina – Yo Yo Music
Lisandro Meza – Las Tapas – Discos Fuentes
Sonido Martinez – Brughlin a Nueva Jork – La Zona
Huelepega Sound System – Sabor de la Cumbia – Inyrdisk (CANADA)
Formula 5 – Cumbia Maestra – Unknown
Zurita – Back to the Punk – Cabeza
Dubchaman – Diablo Riddim – No Label
Sonidero Nacional – Trick Me Cumbow – Sones del Mexside
Villa Diamante – Chancha vs. Lil' Mama – ZZK
El Remolon – Perfecta (rmx) – ZZK
Peter Rap – Punta – Essay Recordings
El Nosotros – Tu Cu Cu – Ind. (CANADA)
Aniceto Molina – Campañero (Cumbia Crunk rmx) – No Label
Disque DJ – Cumbia del Prodigy – No Label
Dub Traffic Control – Carlito's Cumbia – Unknown
Afrokyou – Consuelo – Ind. (CANADA)
Malalma – Arepa Nativa – Surfonic
Macaco – Mulata Descolorada – Putumayo
Latin Dub Sound System – Ay Carmela – Ind.
I.M.S. – Cumbia (Tom Tom Club rmx) – Nacional
Deize Tigrona – Bandida – MadDecent
Frikstailers y MC Gringo – Cordo Funk – Ind.
Curumin – Caixa Preta – Quannum Projects
Ginger Ale vs Z'Africa Brasil – Hip-Hop Nao Para – WEA
Gang Do Tagarela – Melo de Tagarela – Strut
Beth Carvalho – Saco de Feijao – Wea
Banda Black Rio – Mr. Funky Samba – Six Degrees
Copa 7 – Copa 7 Samba – Strut
Curumin – Mal Estar Card – Quannum Projects
Rebel Rhymth – Sonrisas – Firegrooves (CANADA)
Comments
comments