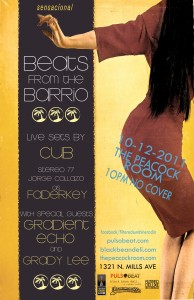 Filtered Sunshine Radio and Pulsobeat.com invite you to enjoy an evening of the finest and deepest selections of dance-floor flavours from all across the globe, as performed by Central Florida's most diverse and forward thinking DJs and musicians.
Beats From The Barrio offers the listener & club-goer alike, an alternative approach to what "Dance Music" can sound like… Tropical Bass soaked in Afro-Caribbean flavors or slow and low Disco vibes from a universe unknown… How about some Latin influenced dance-floor Jazz, House, Dub and Funk? In short, a global movement via sound, inspired by and from the barrio.
In true Filtered Sunshine Radio fashion, Stereo 77 brings together an all star lineup of tastemakers highly skilled in the art of seamlessly making you groove!
Check it…
CUB (Brownsville Radio / Battle Ready) returns to open the night with his hypnotic selections of ghetto fabulous dance-floor heavy hitters!
Gradient Echo (WPRK 91.5 FM / Curb Appeal Mondays) makes his 2nd guest appearance to illuminate The Peacock Room with his seamless selection of funky mid-tempo and Dub heavy dance-floor rhythms!
As witnessed at every Beats From The Barrio, FADERKEY (Stereo 77 & Jorge Collazo) switch up the tempo with their signature live performance influenced by the "Descarga" traditions of Puerto Rico & Cuba (http://en.wiktionary.org/wiki/descarga#Spanish), soaked heavily in Caribbean inspired dance-floor jams. This time around, FADERKEY will feature as a special guest on guitars, Grady Lee.
Not enough for you? La Empanada truck will be parked at The Peacock Room, offering their exquisite selections of freshly made Empanadas!
Filtered Sunshine Radio and PulsoBeat greatly gives thanks to:
Black Bean Deli – http://blackbeandeli.yolasite.com/
The Peacock Room – http://www.thepeacockroom.com/
Dub Radio Inc. – http://www.facebook.com/dubradio?ref=ts
for their amazing support!
For exclusive mixes, check out http://www.soundcloud.com/djstereo77
Comments
comments