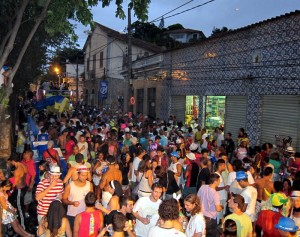 Written by: Gregzinho
The mythic Carnaval of Rio de Janeiro entered with full force on Friday, March 4, though a bit wetter than usual thanks to the águas de março (Tom Jobim wasn't making it up when he wrote that driftingly beautiful samba in 1972).  I am waiting out the rain after a sopping afternoon and evening slogging around Santa Teresa with the Bloco de Carmelitas, an irreverent homage — like the best of Carnaval blocos, the street bands that cavort around different neighborhoods, leading behind them a costumed and drunken crowd of revelers — to the Carmelite nuns who have a convent on top of the hillside neighborhood.  An estimated 3 million, spread across 424 blocos, will party in the streets, with names like Suvaco do Cristo (Christ's armpit, because they parade in the neighborhood directly below the statue of Christ the Redeemer), Que Merda É Essa? (What is this shit?), and Xupa Mas Não Baba (Suck but don't slobber).  In the mean time, then, for those who are in Rio, or wish they were, here are some brief highlights for those looking for alternative sounds to the traditional samba enredo (the routines performed by samba schools during their parade spectacular) and marchinha (brass and drum led numbers for blocos, repeated ad infinitum):
Saturday, March 5: Jamaican Carnival, a soundclash between Bangarang Sound System (Rio) and Jurassic Sound System (São Paulo), playing only early roots reggae, ska, rocksteady, and even calypso and mento, and at a cheap R$ 5.
Sunday, March 6: Baile Black, for those who want a little swing and groove to their samba, will be playing sambalanço (think Jorge Ben) courtesy of Irmãos do Quilombo (Brothers of the Maroons).  A bit steeper at R$ 60.
Monday, March 7: Bloco AfroReggae returns to the streets of Arpoador at 3 pm with the theme of Gladiators.  You'll be hearing those drums for at least a few miles away.
Monday, March 7 and Tuesday, March 8: 2nd Annual Rio Sound System Festival will gather sound systems from across Brazil for a two-day Carnival spectacular, outdoors along the Rodrigo de Freitas Lagoon.  Highlights include local favorites Digitaldubs and the Rio-São Paulo hybrid Dubatak.  Sound system culture is definitely lacking in Rio's Carnaval, which skews toward live percussion and brass, or bad recordings projected on questionable sound trucks.  Let's hope the 2nd annual is only the second of many.
Tuesday, March into the wee hours of Wednesday, March 9: The last float of the last school of the last day of Carnaval will feature none other than tropicália legend Caetano Veloso, who will be saluted in the routine by Paraíso de Tuiuti, a samba school in the B league (two rungs below the top dogs of the Grupo Especial, who parade on Sunday and Monday).  He has agreed to parade with them, and thus close out Carnaval, which might just be what Tuiuti needs to conquer a top spot and make it into the Grupo A next year.
Sunday, March 13: And you thought Carnival was over!  The gargantuan Monobloco, whose Transformer-esque logo is an apt description of their ability to be vastly more than the sum of their parts, has already outgrown its 50,000-strong parade along the beachfront and moved to Rio's central avenue, Presidente Vargas.  Using the typical drums of a samba school, they play tunes from across the Brazilian music sphere.
Comments
comments