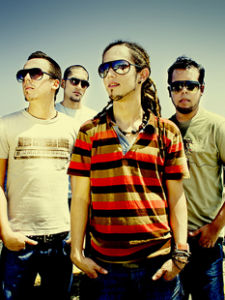 Recently I took a listen to independent Latin Pop/Rock band Calor Urbano from the Dominican Republic. They can be categorized as Funk/Soul with a mixture of Hip-Hop styled verses sprinkled into the production. Lead by vocalist Vincente Garcia, the band displays an eclectic nature about them. The other members of the band consist of Adolfo Guerrero as M.C, Joel Berrido on the bass guitar and Carlos Chapuseaux playing lead guitars.
With little more than a dozen songs produced, you can get a sense of how the Dominican Republic embraces the band members. Calor Urbano even recorded with production engineer Mike Rodríguez and José Bordas, recognized producers in the Dominican music scene. This collaboration brought their first single, "Calor Urbano", to national radio in 2003, reaching the top of the music charts. Not a bad start for an emerging indie band! Other great tracks that were released were promotional single "Vertigo" and a third single "To Soul", placing Calor Urbano among the top bands of the Dominican Republic.
Those who know the independent music scene may understand how difficult it is to taste success, but Calor Urbano's track record of hit singles proves how talented they really are. In 2004, nominations for "Best Pop/Rock band of the year" in the Premios del Pueblo awards propelled the band's popularity. While in 2005, Calor Urbano signed their first record deal with Azares Entertainment, a Dominican record company releasing the bands first official album, "Transmission Groove" in summer 2006.
Calor Urbano brings a variety of influences to their audience, listening to their music is such a soulful experience. Their songs are well put together and you can tell much thought goes into the lyrics and production. I encourage you to check out more of their music on their Myspace. For more on the band's up and coming shows you can check them out on Facebook.
Comments
comments